How to Optimize Bounce Rate Using Google Analytics
In this post, I'll talk about how to optimize bounce rate using data from Google Analytics.
According to Google Analytics, "Bounce Rate" is the percentage of single-page visits.  In other words, visits in which the person left your site from the entrance page.
Bounce rate is a measure of visit quality, and a high bounce rate generally indicates that site entrance (landing) pages aren't relevant to your visitors.  Bounce rate can be calculated from site level and individual page level.
Individual Page Level
Bounce rate is the ratio of visitors who enter the site from that page and leave without going any deeper, to the total number of visitors who enter the site through that page. Basically, it is single page visits / total entries to the site through that page.
Following screen shot is an example from Google Analytics, it could be a good point to start off your analysis to give you insights to landing pages and bounce rates.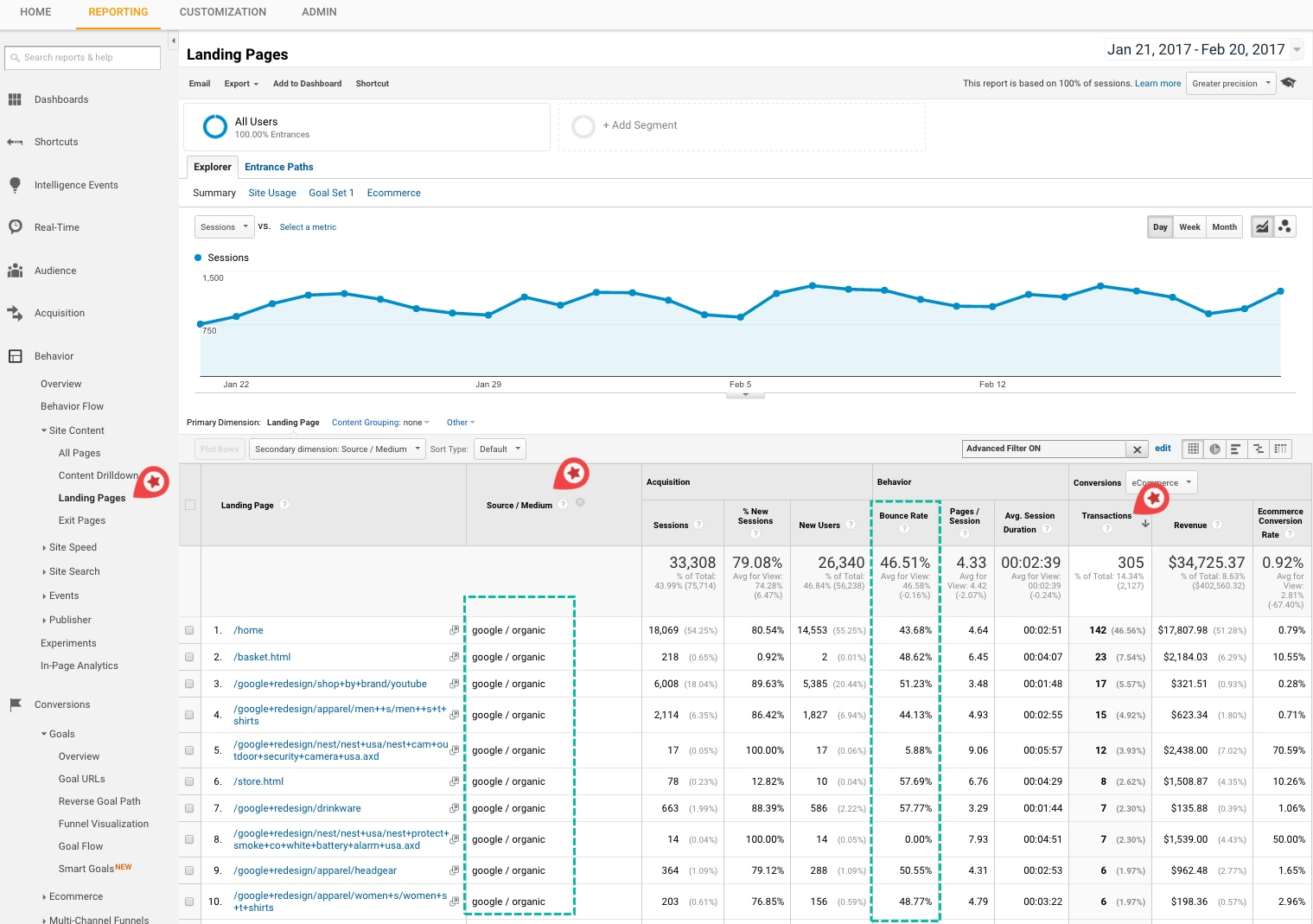 Site Level
Bounce rate is calculated as single page visits / total site visits.
The question typically asked is what is the industry standard of bounce rate?
I would say it depends on the site, industry, the mix of media, campaign that is running, how that landing page is served, etc.
According to a survey study, following are the min and max of the bounce rate for certain categories.
– eCommerce: Min 14.3%; Max 68.0%
– Product Information: Min 3.2%; Max 50.0%
– Lead Generation: Min 5.2%; Max 81.0%
– News/Media: Min 25.0%; 81.4%
– Branding: Min 22.0%; Max 70.1%
– Other: Min 13.0%; Max 85.0%
Additionally, you should be thinking about the types of a campaign running at that time of measuring the bounce rate, too.
Typically, PPC (pay per click) campaigns have higher bounce rate than traffic from organic search.  Therefore, making sure that your campaign's landing page are optimized and customized to address the bounce rate issues are important.
Bottom line, keep on optimizing your site and continue to optimize for lower bounce rate.
Start off by making a goal to reduce worst pages below 60% and aim below 50%.
Identify pages with high bounces and high traffic.
Look at the source of that traffic and focus on optimizing for the Organic Traffic like the traffic that comes from Google Search (organic), and traffic from Social Media.
Use Google Analytics' segmentation feature and look at the segment of traffic that converted from your website.  Look the top entry pages and focus on lowering those page's bounce rate as well.
ZoomMetrix Newsletter
Join the newsletter to receive the latest updates in your inbox.
---