Customer Satisfaction - Web Analytics Actions and Measurement Points
I wanted to share my thoughts around Customer satisfaction on e-commerce sites lately and wanted to hear yours.
One of the ultimate outcomes for a website is customer satisfaction. I think of an e-commerce site with great customer satisfaction as Zappos.com. It is one of the ultimate models to service and satisfies customers.
Zappos made me think about customer satisfaction more than before. But, before we think things in a complicated manner, we need to start somewhere and understand the measurement points for web analytics because web analytics is the bread and butter of this blog.
Check out this diagram I made. (Apologies if it is not pretty.)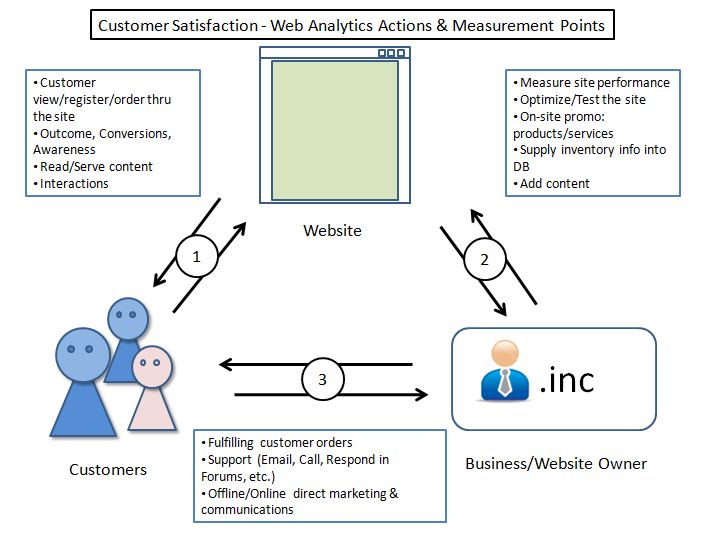 When a business owns an e-commerce site and deals with web analytics, we (web analysts) need to be mindful of the key points that support and complete the e-commerce service. Allow me to share with you my idea around three web analytics actions and measurement points:
Idea 1 (Website and Customers)
This point shows the interaction between customers and the website. In other words, it is the "experience" part for the customers going through your store. From a web analytics point of view, we would measure and assess:
Pages that the customers viewed that contributed to completing a key event.
Entry pages with a high bounce rate to understand what to optimize.
Conversions.
Visitor types and their behavior differences, and outcome analysis.
Advanced segmentation analysis on various dimensions of data against the outcome.
And many other fantastic data we get out of web analytics applications.
These are typical metrics and KPIs available straight out of the web analytics applications, requiring customized tracking and setting up for key events on goals. The business should know what to gauge KPIs to understand how their site is against their goals.
Optimizations and testing will impact this area (point 1), so customers' interactions with the site will give us actionable data that supports decisions to improve customer experience.
Measured and assessed data should tie with customer satisfaction because your website has to serve your customer with products/services/content they are looking for and have your site optimized so that customers can convert with ease.
Idea 2 (Business and Website)
You are wondering what business or website owners get to do with the actual site related to customer satisfaction. After going through many websites, I've seen many situations where I doubt the site owner's care and ability to maintain the site to serve its customers. (Maybe I am shooting my foot here… lol)
Some of the actions taken by business owners could be adding/updating content, executing promotions, supplying inventory info in an e-commerce database, etc. All these actions could lead to customer satisfaction.
Taking the supplying inventories as an example, I've come across sites where when I put an item into the cart, it'll show "out of stock." Leaving me with no choice but to exit the site.
From a web analytics standpoint, we would love to measure everything that impacts the bottom line, but here are examples of metrics and actions of customer satisfaction:
Inventory availability vs. demand orders, Promo response, and application/redemption, site optimization A/B or multivariate test, new content uploads rate vs. Avg. Visitor frequency, applying SEO best practices, etc.
Idea 3 (Customers and Business)
I believe this is an important point and other common web analytics involvement affiliating with customer satisfaction.
After customers purchase items from the website, customer must fulfill orders and solve issues; direct marketing may occur online or offline. Therefore, the speed and timing of fulfillment, customer support, and customer communications are critical to customer satisfaction.
From a web analytics standpoint, there are quite a few measurement points. Here are some examples.
Direct Marketing (online/offline): Delivery, Response Rate, Conversions, etc.
Fulfillment: Ship to order ratio, average order to delivery time
Support: Customer response, incident reduction, support forum usage
Direct testimonials to business, survey request to customer and analysis
Hopefully, this article gave you a different perspective on customer satisfaction relating to e-commerce. I believe some of this concept may apply to non-commerce sites, too. Having a creative mindset in the web analytics field does not hurt.
ZoomMetrix Newsletter
Join the newsletter to receive the latest updates in your inbox.
---