Digital Analytics Data Warehouse the Merits and Demerits You Should Know
Digital analytics data warehouse and its technology have advanced. As a result, more businesses are taking advantage of such technology, and digital marketing analysts can also access and gain actionable insights.
Data warehousing varies in different business setups. There are both benefits and demerits to storing corporate data in the cloud Vs. Internal servers. However, storing marketing data in the cloud either through a 3rd party vendor or cloud storage server but self-managed are two popular choices in recent years.
Many data, including Point-of-Sales (POS) records and transactions, are also preserved in this mechanism. There is more than one way to capture and store online marketing data.
Using a 3rd party solution to extract and store digital analytics data from various sources is a popular option and becoming very common.
Of the main ways of storing digital marketing data through data warehousing, we have the following options with their own merits:
Building an internal stack via data lake
Usually, IT would create such a data environment. Using data extraction technology via API, digital analytics data will get pulled into an internal data warehouse. In this case, you'll have internal resources supporting you, and the company has a lot more control over selecting the tech stack.
Using 3rd party solutions to extract and store data
As more businesses use data servers like Amazon AWS, more 3rd party solutions are becoming available to ingest various data into Amazon AWS or an equivalent data server.
Once your digital analytics data are stored in the cloud-based data server, you can use tools like Tableau or Qlik to tap into that database so you can decide what to generate in terms of visualization or reports.
Using 3rd party solutions to extract, store data, and visualize
It is quite similar to the option mentioned above. In this case, you are working with a SAAS provider where you don't have to worry about setting up a data server.
Instead, provide the entire stack and service to ingest data automatically from various data sources through API, and it will also offer visualization/reporting capabilities. Example solutions: Sweetspot Intelligence, Beckon, Datorama, Origami Logic, TapClicks, etc.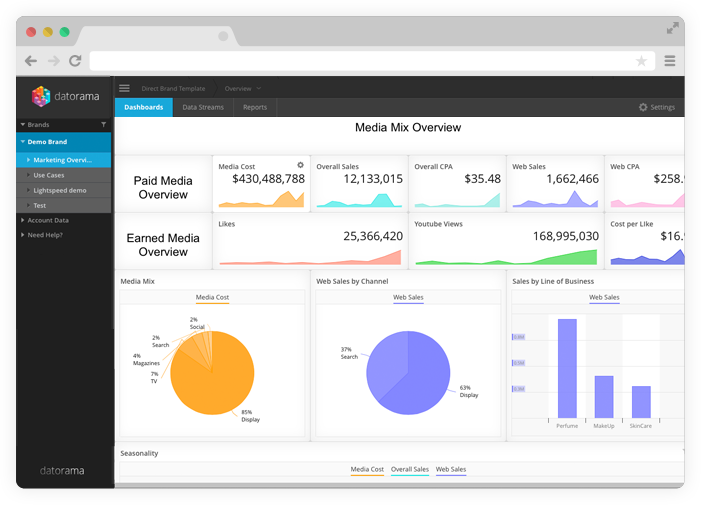 A data warehouse can easily house web analytics with the help of data pipeline tools. Web tools like Software as a Service (SaaS) are commonly used in preparing metric reports. These tools are widely used to collect information on on-site operations, the nature of site traffic, and competitive analysis of the data gathered. The number and options of website vendor support have also grown higher than before.
I have used Datorama, and it is an awesome tool. Great people and service. I've also seen Sweetspot Intelligence and Origami Logic, and they also got some great service.
However, data warehousing has some limitations associated with it. The demerits of that are:
Time Constraint: Preparing Reports through internal data warehousing could be time-consuming due to internal resource dependencies. Also, any modification to the stack or ingestion or logic would require more time and resources.
Governing and managing internal data storage security: When you go with 3rd party solutions, you can have those security, certification, and standards be managed by the 3rd party instead of your internal governance and process. The database might have confidential reports with limitations, so those things will play a key role in how you make the decision.
This article is a quick overview of the possible merits and demerits of building the data warehouse for your digital analytics data. It is not limited to what is mentioned here in this article.
This is another area of great opportunities and challenges for digital analytics professionals to tackle as more marketing data are becoming scattered as marketers invest in various marketing channels.
Thank you so much for taking the time to read my content.  If you've liked what I've had to say please subscribe!
ZoomMetrix Newsletter
Join the newsletter to receive the latest updates in your inbox.
---