How to Measure Marketing Effectiveness from Various Data Platforms
In 2008, I worked in a marketing agency pulling data from multiple systems, and I remember it was very time-consuming.
Many systems back then didn't have APIs for marketers or engineers to bring in data seamlessly. So this article means a lot to me, and I'm sure many marketers analyze data from various systems or ad tech vendors.
One of the biggest challenges for digital marketing analytics is constantly analyzing marketing funnel and campaign performance where data come from various disparate systems. It is very important to manage the data right as it is SUPER challenging to metrics reporting from multiple analytics systems.
There are a few challenging things for marketing data practitioners. If you don't have these issues or challenges, you are very lucky, and I'm sure you won't need to read this any further. However, perhaps you can share some of your experience and knowledge around you doing things in your business.
The challenges are:
So many marketing tools and systems marketers are using and changing (more like testing)
Internal Datawarehouse and Business Intelligence environment are not set up to effectively allow marketers to look at their data automated.
Lack of resources and budget to support marketers who are working with various tools and perhaps agencies that are constantly changing
The marketing tech stack is changing a lot, and there is a lack of support to keep up with those changes.
Data normalization is overlooked, and there is a lack of ownership in maintaining that definition. Hence confusion with the data definitions.
As web analytics analysts, we would track and tag any traffic sources that we could identify as a campaign and bring that data into the tools where we primarily pull data and report from. However, when we have the opportunity to track things from
However, when we can track things from multiple systems, the challenges in reporting arise when reporting the results to the business. It takes so much time to massage the data!
Luckily, Marketing Technology has evolved, and many technology solutions are out there that allow marketers to pull, combine, normalize, and automate data processing and reporting.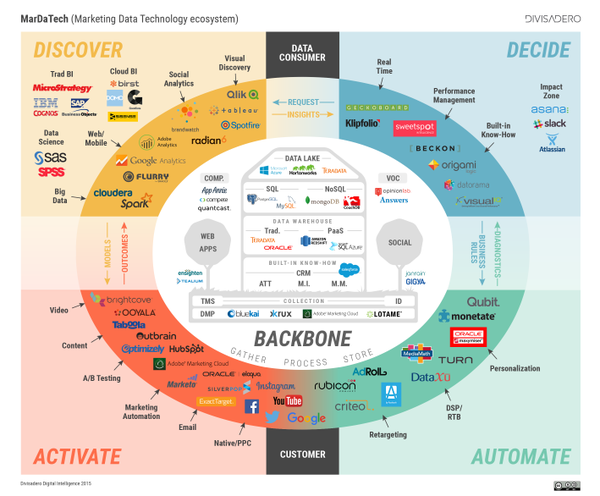 I like this Marketing Data Technology Ecosystem graph that Divisadero created.
Many businesses use these common marketing technologies, but as for the positioning, many marketers will look to the top left quadrant for data ingestions and reporting. Not surprising, given that vendors like DOMO, Good Data, Tableau, or Qlik are in that quadrant.
The problem is that many of those vendors require you to have your marketing data all cleaned up by having a data source or data warehouse where the tools could tap into.
But again, many marketers' problems are not being able to get those disparate data sources into one place. So with that in mind, if you look at the top right quadrant, you'll find companies like:
I wish these tools were available when I started my digital marketing and analytics career. All data analysts would have been a rock star in different ways, especially time to process, and insights would have been way shorter.
Measuring marketing effectiveness usually involves data that measures the area of efforts you have invested your time and money to acquire traffic, generate leads, build engagement, convert your audience to business, retain them, etc.
So if you're investing in paid media channels from Google, Facebook, LinkedIn, and Twitter to reach your audience to drive them to your site, that alone involves many data sources.
We're talking about AdWords, Facebook Ads, LinkedIn Ads, Twitter Ads, Google Analytics (or any web analytics tracking), and possibly sales data or customer data from your downstream systems.
Following is a basic image of the data flow and how various data sources could be processed and ultimately report out measures that would be meaningful to track your marketing's effectiveness.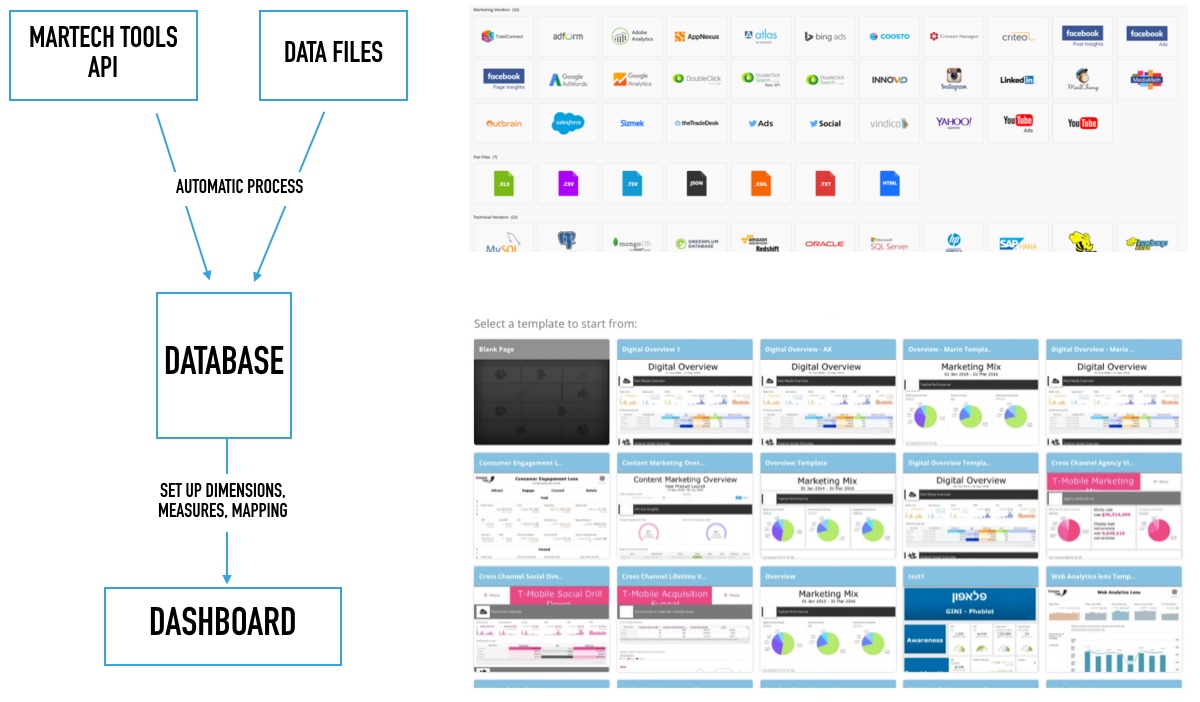 So typically, the Marketing Technology tools mentioned above would connect to the marketing technology platforms through API, and other sources are flat files like Excel, CSV, etc. Finally, the third type of data directly connects to MySQL, Redshift, Hadoop, etc.
These vendors would usually ingest data from various sources, then store them in their database. In most cases, you'll be able to transform data using their tools before adding data records into their database.
Once the data is available in the tools, usually what you do then is to design a dashboard with the key measures you need to know, and once you're done with that, you'll publish the dashboards with filters, just like you publish blog posts using WordPress. Easy stuff.
Keep in mind that some of the tools will store data, and some will not store it but pull it through API and cache it.
There is a big difference there, and make sure you know what you're dealing with because that would tie to costs and how much you'll be paying the vendor.
Also, the capabilities that allow you to store data in their platform usually require some initial setup with their onboarding team and ensure that you're given excellent training to get you started.
I'm not going to endorse a particular tool or vendor, but I have tried some of them, and it is built out quite well.
I suggest you talk to various key stakeholders to make sure you build the dashboards to measure your marketing's effectiveness. You'll need to understand the funnel that matters to those end users who'll need the data from these data sources and dashboards.
Make sure you understand the funnel and design those funnels into these dashboarding tools.
Make sure you understand the objective and goals of the dashboard's main users.
Make sure to QA your data so data is ingested properly and that the custom dimensions or custom measures are reporting accurate figures. (e.g., you want AdWords cost to come out the same in your dashboards)
I hope this article was helpful and provided value. I would like to know what and how you're seeing in this area where marketing needs to consolidate the numbers from various vendors.
Thank you so much for taking the time to read my content.  If you've liked what I've had to say please subscribe!
ZoomMetrix Newsletter
Join the newsletter to receive the latest updates in your inbox.
---