Page Load Speed Impact to Bounce Rate and Value
A lot of us analysts strive to make sense of data so we know what cause what impact to generate more value, increased efficiencies, etc. One of the things I've learned recently is that in analyzing the data to better understand what testing would work to impact the KPIs (like sales conversion, bounce rate), it is really hard to run and finish off a test that generates a very high impact.
We know a lot of insights would need to come by with deep diving into the VOC (voice of customer), analytics, and much other analysis along with the right tools.
With an overwhelming amount of things to consider, you pray that all that stuff adds up to one single story that is big enough to start asking people to share their time (resource) to create image assets, copy, set up a test, etc.
In one the thing we have to observe after running deep and careful analysis, we made some mini improvements to our core KPIs including bounce rate.
A lot of deep analysis, but little impact. Conversely, technical folks on my team were doing some cool in optimizing one of the page's load speed. I helped measure the impact and the result was some insane improvements to conversion rate, something like ~8% improvement in people not existing, leading to ~20% increase in sales.
There are quite a bit of case studies out there, and results are super different across sites, brands, page, or site section. I highly recommend you look at your own data and test to find what 'your' cause and effect equation is.
So that leads to my idea of looking at page load report in Google Analytics and segment by different data groups and page load. Data comes from some personal site and random date range for the sake of showing the value of this method of analysis under Google Analytics.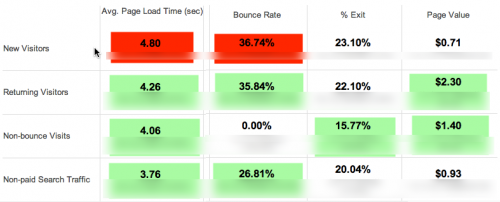 Here is a segmented view showing new visitors, returning visitors, non-bounced visits, and organic search traffic.
It is a amazing how much of a difference you'll find when page load time is smaller for returned traffic (likely due page cached in browser).
Also showing lower bounce rate and high page value.
The same situation goes for non-bounced visitors who are experiencing a page load near 1 sec faster load speed with some great data representing the page value.
Similar observations for organic search traffic. It definitely seems that the page load does impact the engagement and outcome of the site.
Here is another data. I used filter on Site Speed > Page Timings report looking at Avg. Page Load Time greater than 4 sec. Noticed the bounce rate is almost 4pts different, or higher than when page load is filtered at less than 4 sec.
The average time for the two different time buckets are absolutely different as well, a whopping 5 sec. Of course the page value is much higher when Page Load Time is much lower.


Page load speed related data is really actionable as you can just take this data to some manager in charge of development and say 'there is an opportunity for improvements'. Great engineers will then make that magic happen and help the company generate more revenue by improving the technicals behind the tech stack, and most importantly make customer experience a better one on the brand's site.
Thank you so much for taking the time to read my content.  If you've liked what I've had to say please subscribe!
ZoomMetrix Newsletter
Join the newsletter to receive the latest updates in your inbox.
---