Setting Up Segmentation for Referring Sites that are Non-Marketing Channels
This article is about how to get a clean list of externally referred sites, where site traffic is not contributed from email related domains, marketing campaigns, direct traffic, etc.
The referring sites report under "Traffic Sources" describes how people referred from other sites, but if you really want to separate out various marketing channels (email, image search, partner sites, etc.), you may want to set up some filters. Basically, segment your data to only look at this traffic source group.
The purpose of filtering out any referring domains relating to the non-marketing channel is to really understand which websites are contributing traffic to your site. And these referring sites are directing traffic to your site for either two reasons, which are either good or bad.
The good reason is your site is so good, that other sites couldn't resist putting up links to your site. That results from this should be really great because it has the potential to boost your PageRank on Google, increase your sites or products awareness, contribute an increase in revenue or orders, etc.
Although additional links to other sites are good, there could be bad reasons, too. The extreme case is getting links from phishing/scam/spammed sites, which could bring down your quality score. Other reasons are, people are talking bad about your site/services/products/content, and sites are referencing to your site. Hopefully, the anchor link doesn't say something irrelevant to your site…
Some of the key metrics to observe from these referring sites are similar to looking at your traffic source metrics. Visits, Pages per visit, Avg time on site, bounce rate, desired outcomes (conversions), order, revenues, etc.
How to set up a filter or create a segmentation so that you can narrow your report to non-marketing channel – referring sites:
1) Go to "Advanced Segments" > "Create new custom segment"
2) Use "Source" dimension from the dimensions selection list, and use "Does not contain" expression. Enter values such as "mail", "google", or any domains associating to your partner sites, affiliate sites, etc.
3) Use "Medium" dimension and select "referral" to make sure you're working with data set coming from Referring Sites report.
Now that you have a custom segment that with cleaner data set representing non-marketing channel referring sites, you may find something interesting about those traffic sources.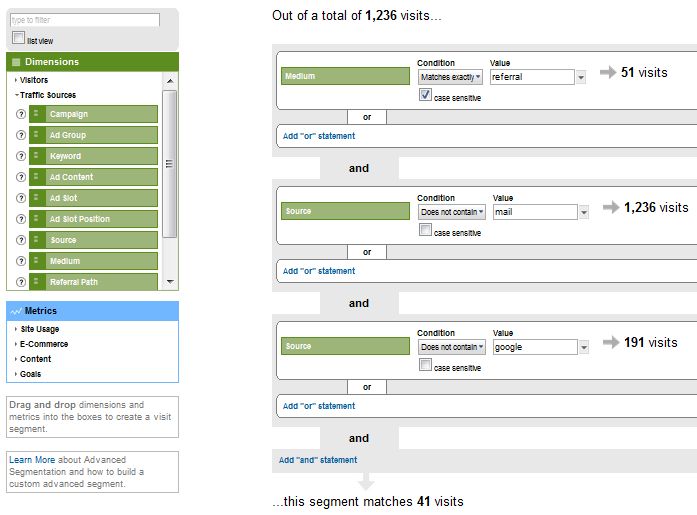 Enjoy!!
ZoomMetrix Newsletter
Join the newsletter to receive the latest updates in your inbox.
---