Using Data to Enhance the User Experience Without Being Creepy
As I was checking out the eConsultancy's survey on "Top Priority for Digital Marketers for 2013" crossed my mind, and decided to take a look at once again.  We live in a world where real time data is used to enhance user experience, and often called as 'Personalization'.  Marketers are starting to take advantage of such capabilities and you should take notice of this.
It was interesting to me, especially given that I lead building a Content and Conversion Rate Optimization discipline in 2013, I have more appreciation for this area of marketing practice of 'targeting and personalization'. Early last year, Targeting & Personalization was a topic that was way far away from where my mind was at.  As for optimization, I applied a simple methodology on building experiments based on setting a goal, plan, set up tests, execute and review, and then working at it over and over to optimize customer experience.  It worked.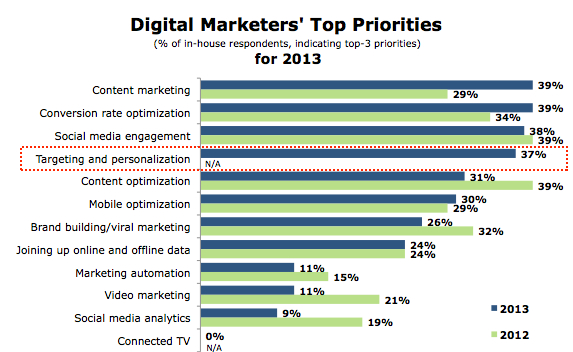 As you do as many tests as we did (more than 100 in one year), you start to realize certain things.
Such as realizing to ask questions like "How scalable is manual A/B testing?" or "Do we really have to have change requests for every possible success factors we know that performs?".
What if we let computers run, push winning content automatically, and reserve human power for planning and instructing the machine on what the goal should be.  Stuff like that.  Big companies like Amazon or Google execute that well, but they have many data scientists and engineers…
So I went to meet ups, participated in data events, reaching out to friends and peers in small to big companies and learned few things:
I felt that even what I've started was a simple first step into website optimization, we are ahead of the curve when it comes to the adoption of optimization. Probably even more mature than many companies when it actually comes to content site-wide testing.
Many of my peers agree the wealth of data we have from website or social is underutilized (see below quote highlighted from eConsultancy report Page 13)
Facing challenges on the privacy-related limitations/concerns to the ability to target and execute what is relevant for the end users
eConsultancy's report Page 13
In a recent edition of the Quarterly Digital Intelligence Briefing, 52% of marketers said that the ability to personalize content was fundamental to their online strategy. However, there is plenty of room for improvement. Some of the most powerful methods of personalization are rarely used;
Purchase history is only leveraged by 21% of marketing organizations, while 77% of those say it has a "high impact on ROI".
Behavioral data is employed by 20% of respondents, but 68% of them report strong ROI.
Social graph data has the highest ratio of all; only 6% usage, while nearly all of those organizations (88%) giving it high marks for ROI.
Now it is 2014, and we have learned a lot, technology has changed a lot as well. Then I read this article "The rise of context for customizing digital experience" and was pretty excited because it basically confirms some digital marketing practices or fundamentals I was firm about.
To sum up this article it is basically saying (at least in my interpretation) before marketers even obtain personal data, there is enough contextual data that is NOT personal data to do smarter targeting and kick ass in digital marketing. And yes, I think that could support following points (Note: again in my view with heavy emphasis on where I am at in this area of data practice):
You may not have to modify or break the privacy policies to do content targeting.  At least if you're planning to use non-personal info add more context to what you have about behavior.
Targeting and Personalization are NOT ONLY ABOUT enabling retargeting in Paid Ads, instead brands can be more relevant to target and match the message that was put out on Paid Ads using owned content or website. (Seems like a good first step to avoid those creepy ads that keep on following you, even after buying the product…)
Contextual data could be enhanced to be more powerful with many other data such as Social, 3rd party data like Weather, CRM profile data (using non-personal attributes like customer ID instead of PII), etc.
You don't have to build a microsite or add web pages by wasting resources and money, but instead being more targeted and smarter by leveraging technology and place the right message at the right timing.
As the article says at the end — brands don't have to be invasive to know about consumer's circumstances, the context of their interaction, what is happening in the environment, to deliver a better experience, but still not knowing actually who they are. That's what happens every day when we interact with people we don't know personally.
What is awesome about this is, technology is available in the market for brands to start to capitalize from.
An example of a content when targeted based location, weather, temperature, Paid Search (AdWords) adverts.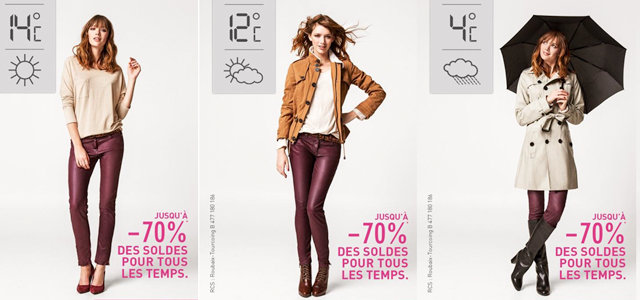 Thank you so much for taking the time to read my content.  If you've liked what I've had to say please subscribe!
ZoomMetrix Newsletter
Join the newsletter to receive the latest updates in your inbox.
---