Web Analytics Segmentation Ideas
Being able to segment your site traffic by different dimensions is very important in digital analytics. Here are some ideas you can use to build your web analytics segmentation.
I've listed out some of my favorite segmentations for applying in your digital analytics practice. You'll see that a lot of the segmentation would be Segmentation A vs. Segmentation B because the majority of segmentation would need to be applied so that you can compare to another data set.
Of course, you can always reach overall site data, so try planning to build out multiple segments you want to compare.
Here are some examples of segmentation that could potentially assist your analysis.
New visitors Vs. Returning Visitors
Paid traffic Vs.  Non-Paid Organic Traffic
Converted Vs. Did not convert
Registered Vs. Not Registered
Branded Search vs. Non-Branded Search  (In paid search)
Bounced Vs. Not Bounced Visitors
Users who put items in the shopping cart but DID NOT purchase Vs. People who left right before the cart without adding item to cart
Engaged Audience Vs. Not Engaged Audience
Multi-level SegmentationOnce you set up your segmentation and execute your analysis, you will get more curious about deeper segmentation. Let's call that multi-level segmentation.
Here is an example. Say you set up a segmentation analysis around converted and not converted visitors. Then it'll be wise to look at the difference between these two segmented groups by different dimensions like traffic source the visitors arrived at your site.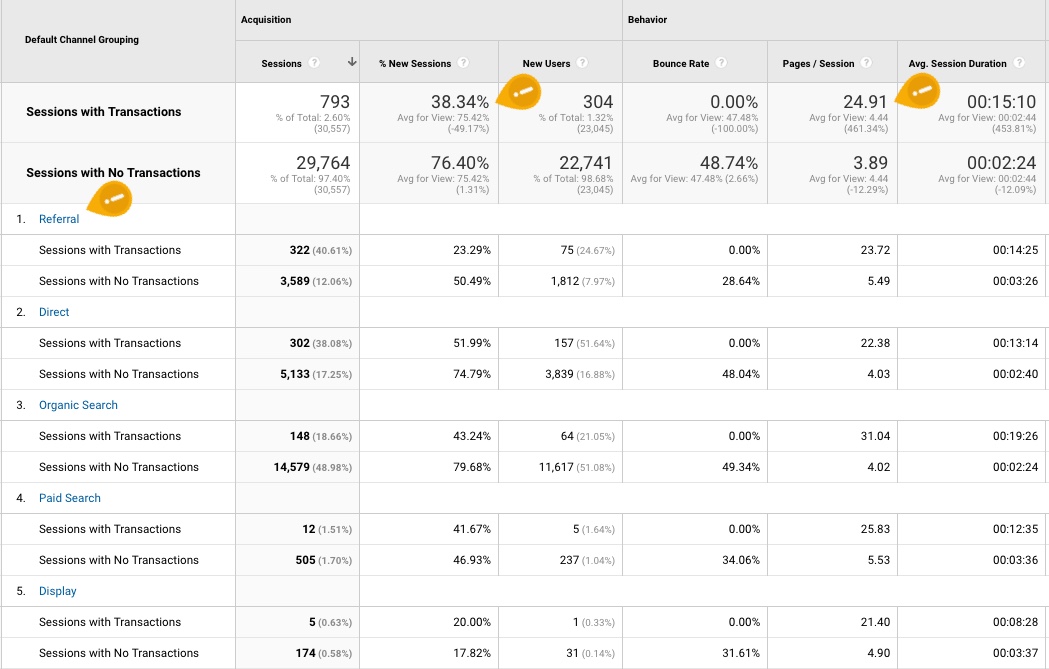 It will look something like this.
I marked up some interesting points here. Some takeaways:
Organic Search Traffic drives a lot of traffic volume, but Referral source is the top traffic driver during this reporting period that converts.
% new sessions for Converted visitor segment meaning, it is likely that the shoppers are returning visitors.
Pages / Session is 25 pages for shoppers. That's a lot of pages users go through before converting. Perhaps there are opportunities to reduce # of cart pages. That was just a hypothesis.
What makes multi-level segmentation nice to look at is that it allows you to zoom into a specific group and learn the difference between one segmented group to the other.
Now, if you analyze drilling deeper into what referring sources are converting, you'll learn that emails are driving that conversion.

Segmentation in Google Analytics is very powerful, so make sure you're taking advantage of it.
Thank you so much for taking the time to read my content.  If you've liked what I've had to say please subscribe!
ZoomMetrix Newsletter
Join the newsletter to receive the latest updates in your inbox.
---