Website Requirements for Digital Marketers
As digital marketers think more about building a better website and face challenges around user experience as more consumers are reading content across different screen sizes through mobile, it becomes even more critical to align with the website's requirements.
Website requirements help digital marketers create a website with the necessary functions and capabilities to be successful. It also helps the team prioritize the important features not only from the business perspective but also from the consumer's perspective.
I was checking out usability.gov's posting on "Website Requirements "and thought about digital marketer and analytics person's positioning within these key requirements. Understanding this basic type of website requirements will help marketers and analytics people set themselves up for success. Now, let's check it out in detail:
As stated in that post, there are five types of requirements:
Business requirements: objectives and what problems the stakeholder intends to solve with the product
User requirements: describe user expectations and how they will interact with the product. Use your scenarios' features, functions, and content to develop your needs.
Functional requirements: how a product should behave and specify what is needed for development
Quality of service requirements: what characteristics a product must maintain to maintain its effectiveness and any constraints
Implementation requirements: document changes in the process. Requirements may also include team roles, migration from one system to another, or tagging.
I want to review the three important requirements below that I think are critical.
Business requirements
As you can imagine, a page or a site has objectives that it wants to achieve, such as driving sales or acquiring leads, etc. In most cases, most digital marketers involved with websites would know the objectives and goals.
However, as you think about the requirements to build a successful website, you'll need to ensure that your website is measurable.
Digital marketers must know the website's performance, like tracking the Key Performance Indicators (e.g., conversion rate, revenue, product page views).
Make sure the business model is clear and aware of the basic customer journey. For example, here is a basic diagram of an e-commerce site.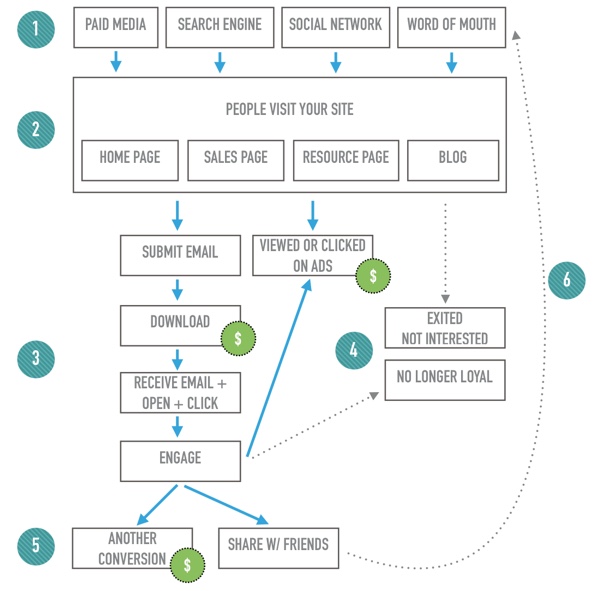 User requirements
I believe most digital marketers fall short in setting the right expectation in their work. Many marketers may not articulate to analytics person to track and report user behavior to address the key user requirements.
What I mean by 'user requirements' is that your website visitors or prospects have certain things they want to accomplish when they arrive on your site.
For example, when your target audience comes to your website, they're probably on your site to achieve a few possible things: research the product, check out the price, read reviews, buy the product, or get support.
This 'User Requirements' part of website requirements planning is super key.
It helps digital marketers and analysts like myself to bucket information accordingly so we can measure user metrics and see how that ties with your business objectives.
This also should help you prioritize what is important to address from your consumer's perspective. It is important to think for both the business and what is important for the consumers.
Implementation requirement
As you know, getting tags or anything tools or features on your website is important, too. Making sure your website functions and ensuring the right data is collected is a very important part of the process of building a better website and requirements.
The reality is, marketers are tight on time and budget during project execution. Therefore, taking the time to think and plan your implementation requirements are important.
A great example from my personal experience is when I implemented Tag Manager on websites. To implement tag manager, pixels and javascript code needed to be migrated.
Also, while you do that, you want to make sure QA is involved so that your changes are not breaking the site and changes are version-controlled.
Keep in mind, if you work in a fairly large company or within a marketing department, you'll usually have to work with multiple people to get your website up and running.
That said, you want to make sure the steps to get things implemented are super clear with your team.
In summary
This list of requirements to build a successful website is something digital marketers and analysts could use.
Here is what the usability.gov's requirements best practices state at the end, and I'd like to add one more thing from an analytics standpoint (highlighted in bold):
Requirements can begin as a phrase or one-sentence description of what the site must have or allow users to do but will become more detailed as you move through the process.
Requirements gathering can be complex, but they help ensure project success. The following characterize strong requirements documents. They should be:
Specific and not conjugate two distinct requirements
Complete and well thought out
Consistent with and prioritized based on the objectives outlined in governance documents and charters
Able to be verified during testing
Able to measure and verify during testing
Because measuring performance is important, we should align data requirements with the website's objectives and goals.
Therefore, it is critical to have digital marketers and analytics consider these important points.
Thank you so much for taking the time to read my content.  If you've liked what I've had to say please subscribe!
ZoomMetrix Newsletter
Join the newsletter to receive the latest updates in your inbox.
---