2022 marketing budgets have climbed to 9.5%. What about 2023?
According to early 2022 Gartner's Annual CMO Spend Survey, marketing budgets as a percentage of company revenue have climbed from 6.4% to 9.5% in 2022.
2023 will be a pivotal year for marketing leaders. The pandemic has forced many organizations to re-evaluate their marketing strategies and budgets. As we move into the next phase of recovery, marketing leaders must clearly understand the trends that will shape the future of marketing.
2023 will be an interesting year as the economy head into recession and an uncertain future. As a result, it is more important than ever for marketing leaders to be strategic in their budgeting and investment decisions.
As you build your marketing plan for next year, consider the possible cap, where the overall marketing budget will be around 10% of your company's budget. But, of course, it might be a lower percentage as the economy worsens.
What are your thoughts on marketing budgets in 2023?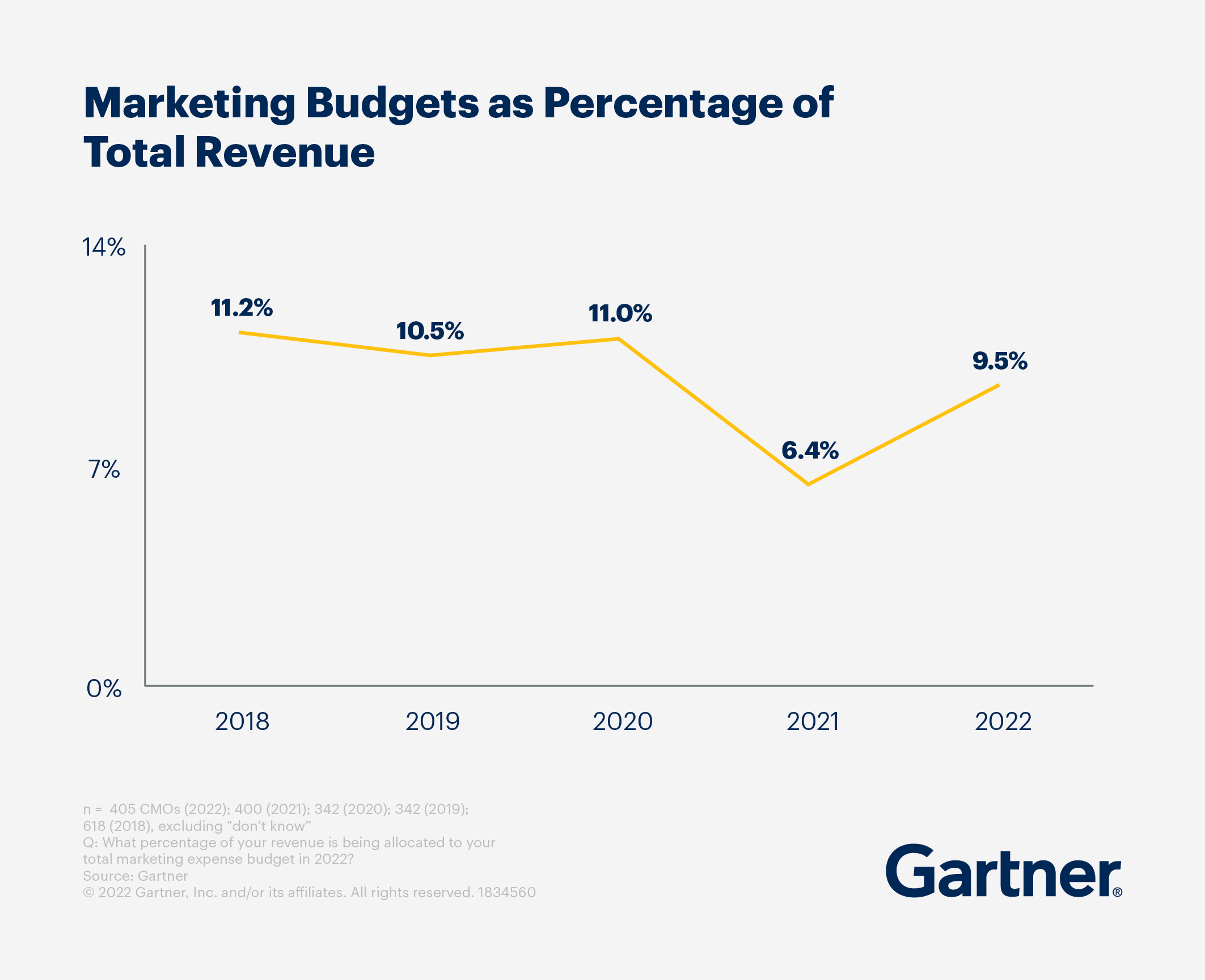 This week's updates
Meta, formally Facebook is going into a hiring freeze
"I think some of you might decide that this place isn't for you, and that self-selection is OK with me," Zuckerberg said in the internal call this summer. "Realistically, there are probably a bunch of people at the company who shouldn't be here."
Meta's investments in metaverse has not fruited yet, and advertising business due to iOS privacy changes have haunted Meta/Facebook. Let's see what a lean company means to Zuck.
source: https://techcrunch.com/2022/09/29/meta-hiring-freeze-zuckerberg/
Google's new automated 360-degree spin feature
Google has found that people are more likely to engage with 3D images than static ones. So earlier this year, they started providing 3D visuals of home goods. Soon, you'll also be able to see 3D visuals of shoes, starting with sneakers.
To give merchants and advertisers better access to 3D visuals, Google also launched a new automated 360-degree spin feature that marketers can access using a few static photos. This new technology will become available in the coming months.
Salesforce announces Salesforce Genie, a real-time CRM
Most customers today expect businesses to personalize all their interactions with them. However, companies have a lot of data that is siloed and duplicative. Providing the most relevant, personalized, and compelling customer experiences is hard in real time.
By 2026, the amount of data created, captured, replicated, and consumed is expected to double, making it even more challenging to connect digital and real-world customer interactions seamlessly.
Salesforce is using a new customer data platform called Genie, to give real-time access to customer information across the enterprise.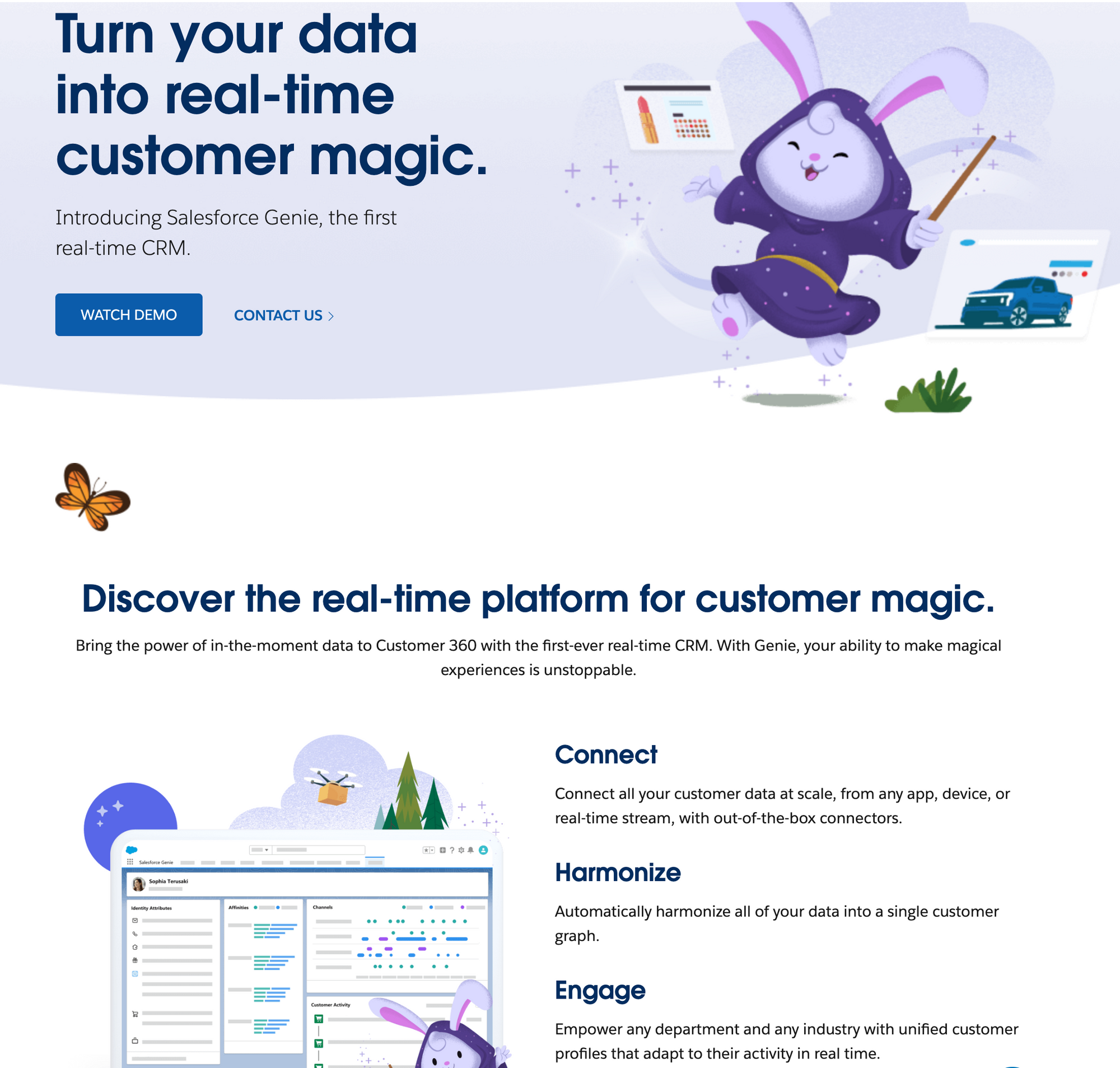 The new customer data platform runs on Hyperforce, Salesforce's public cloud. It uses the same metadata as the rest of the Salesforce platform and connects with Flow, an automation tool from Salesforce, and Einstein, an AI-powered recommendation engine.
This allows all these tools to work with real-time data.
One trend becoming more prevalent is using marketing technology stack to take their marketing efforts to the next level.
As a result, more marketers exposed to such a data environment will benefit in the long run.
---
Thank you so much for taking the time to read my content.  If you've liked what I've had to say please subscribe!
If you haven't checked out our hand curated list of job openings for data-driven marketers, check it out here! Or click the button bellow and start applying to some cool jobs.
Join the Collective & Get Hired
This Collective will personally match talented marketers with data acumen to high-growth, high-upside opportunities at some of the most exciting companies.
Join & Get Hired
ZoomMetrix Newsletter
Join the newsletter to receive the latest updates in your inbox.
---