Rising Podcast Ad Spending in 2021
This year, in 2021, there are about 121.9 million people in the US who have paid subscriptions to audio services. That is 41.4% of internet users.
As a avid podcast listener this is good to know, and as a marketer it is also nice to see audio channel like podcast are becoming popular channel for advertisers.  My hope is content creators will reap the benefit from this trend to support the emerging creator economy.
In terms of popular digital audio platforms, in 2021, Spotify will have 83.1 million listeners in the United States and Pandora will have 54.2 million listeners. Amazon and Apple are gaining listeners and we expect that Amazon will surpass Pandora by the end of 2022.
Some of the world's largest companies have started investing in digital audio. This is a good sign for this new medium because advertisers are interested and content creators are creating more content.
In 2021, combined US radio and digital audio services will get 16.8 billion dollars in ad spending. Two thirds of the money will go to terrestrial radio, and the rest will go to digital audio services.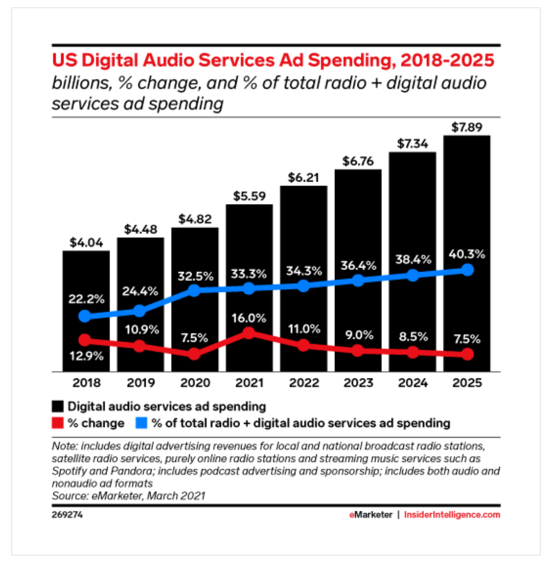 Podcast advertising is rising!!  Advertisers will spend $1.33 billion on podcast ads this year. This is up from last year which was $850 million.
ZoomMetrix Newsletter
Join the newsletter to receive the latest updates in your inbox.
---