How to assess and hire a RevOps Manager
Why should you hire for RevOps?
If you're thinking of hiring a Revenue Operations Manager, there are a few things you should keep in mind.
A small or mid-sized business might want to hire their first RevOps Manager as a way to test the waters and see how driving revenue and improving operational efficiency works for them.
Suppose you're looking to hire a RevOps Manager for a larger organization. In that case, you'll want to make sure they have the experience and skills to manage a team of RevOps analysts - or generalists, specialists, or both.
They'll be responsible for coordinating with other departments, delegating tasks, and delivering data insights to executives.
Hiring a RevOps Manager can help your business get the most out of its sales, marketing, and customer departments. RevOps oversees all these divisions and helps to integrate data across them all quickly.
This means you'll have access to insights faster and can act on them right away. You'll also be better able to focus on your target audience and use that information to boost revenue.
If you're looking to hire a RevOps Manager, it's important to make sure that they can keep all of your departments up to date with incoming data. That way, everyone will be on the same page, and no one will feel overwhelmed.
If you're looking to improve communication and efficiency in your business, you may want to consider hiring a RevOps Manager. RevOps breaks down silos in your company so that everyone is on the same page and working towards the same goals.
This type of manager is essential for businesses seeing an increase in demand for their product or service. As a result, the opportunities for people with a deep knowledge of CRMs and operations will only get more expansive.
Qualifications of Revenue Operations Manager
First of all, make sure they have experience in sales operations. You might also want to consider someone with a job title like Revenue Operations Manager or Manager of Revenue Operations.
For a good Revenue Operations Manager, you need someone with the ability to promote revenue growth, diagnose and solve problems, and communicate effectively. Ideally, they'll also have some tangible and intangible skills.
When it comes time to assess and hire a RevOps manager, you'll want to make sure you find someone who can help guide your organization to better revenue. Ideally, this manager will have data to back up any proposed initiatives.
Required Experience
It's important to make sure Revenue Operations Manager has a background in revenue operations, sales operations, or business operations. They should also have at least 3-5+ years of experience.
It is also important to find someone with good communication skills. They need to be able to act as a liaison between different departments and stakeholders and get things done efficiently.
Hiring a RevOps Manager can be tough - you need someone great with numbers and analytics but can also communicate well and make presentations. But don't worry, it's not impossible. Make sure to look for someone comfortable with data.
At last, one of the most important skills is relationship building. This person will need to work closely with other departments to have a healthy working relationship.
Technical Skills
When it comes to hiring a Revenue Operations Manager, you need to make sure they have a deep knowledge of CRM software and their administration, including Salesforce, HubSpot, and other major platforms.
Since working with data is an essential skill for the role, it's important to be able to demonstrate competency with:
Business Intelligence
Marketing Automation software
Sales Enablement software
Marketing analytics tools
Challenges When Hiring RevOps Manager
RevOps function is a relatively new position, but it's becoming more and more common these days. So, what do you look for when hiring someone for this role?
Well, first of all, the pool of potential candidates is still developing, so it can be tough to find someone with a lot of experience in this field. But that doesn't mean you should rule out anyone who doesn't have decades of RevOps experience.
The most important thing is that the person is qualified and has the right skills for the job.
You may have junior professionals who are just starting and may not have a lot of experience; on the other hand, you've got more experienced professionals who may be inundated with job offers. So how do you find the right person for the job?
You might find someone with experience in Sales or Marketing Operations, but it'll be hard to find someone with the specific RevOps skillset.
The solution to finding and assessing the best RevOps talent
Have a competitive salary and benefits package
According to talent.com, as of December 2021, the US's average revenue operations manager salary is around $111,000 per year.
Entry-level position starts at around $88,000 per year, while most experienced workers make up $151,000 per year.
So don't skimp out on the compensation and benefits. It is very hard to attract great talent in a competitive market, so this is the first thing you should align with your company's stakeholders for hiring for the RevOps role.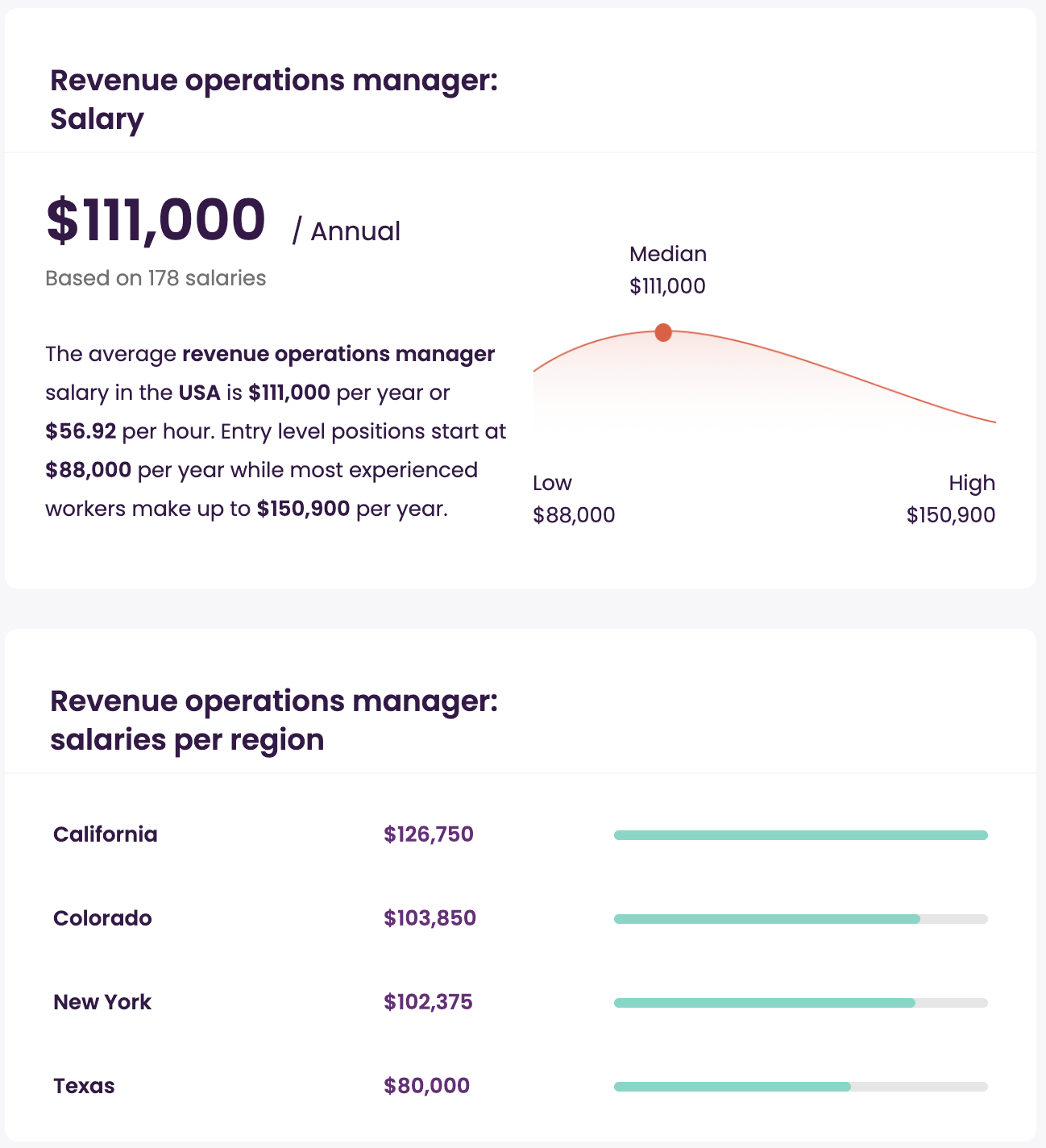 Ask the right question when screening the candidate.
When hiring a RevOps Manager, there are some things you can do to test for the right person.
When you're looking to hire a RevOps Manager, it's important to look for someone who has a lot of experience with data and analytics. In addition, they should show you examples of integrations, campaigns, projects, etc., that were successful and involved data and analytics in some way.
This is someone who can help you use data in your operations and make better decisions. They'll help you test your strategies and measure your performance.
It is critical that RevOps managers articulated and demonstrate how they influenced changes and learned from failed efforts.
Kinds of questions to ask are:
How do you approach decision-making as you build your growth plan?
What have analytic approaches been most beneficial for your sales and marketing organizations?
How would you describe the "sales data" and "marketing data," and how would it help execute sales and marketing strategies?
What role do technology play in both sales, marketing, and support?
As a RevOps manager, how would you deliver value to the organization?
The role of a RevOps Manager is becoming increasingly important and more well-known in recent years. Revenue Operations play a vital role in any business, and many talented individuals are waiting to be hired and excel in this field.
Managing a customer life cycle, dialogue, and relationship is essential in an era where almost everything is measurable.
Using data and analytics to understand and constantly improve your relationship is fundamental to the business's success.
It is an amazing time to be in RevOps, working closely with sales and marketers and hiring them.
Thank you so much for taking the time to read my content.  If you've liked what I've had to say please subscribe!
ZoomMetrix Newsletter
Join the newsletter to receive the latest updates in your inbox.
---