Marketing Managers: The Pay is Good, but Stress Level is High
According to US News, Marketing Managers made a median salary of $136,850 in 2019. According to the U.S. Bureau of Labor Statistics, marketing manager jobs are expected to grow 10% in the next 10 years. However, despite the high salary, the data also shows that it comes with a high-stress level because the work-life balance is challenging.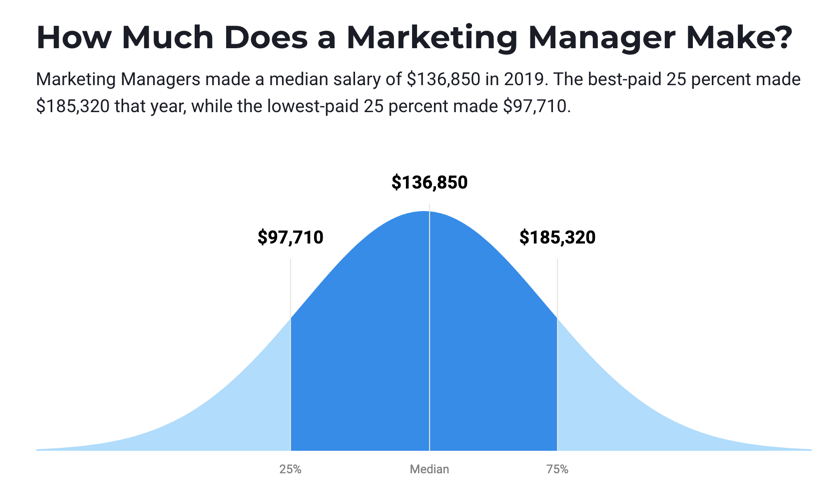 The best-paid 25 percent made $185,320 that year, while the lowest-paid 25 percent made $97,710. That doesn't sound bad at all when the median household income was $67,521 in 2020.
If you are a marketer and have a manager in your title, make sure you double-check if your job aligns with the marketing manager's role. Commonly, marketers may have a manager in their title, but they may not be doing management work.
The American Marketing Association defines its trade like this:
"Marketing is the activity, set of institutions, and processes for creating, communicating, delivering, and exchanging offerings that have value for customers, clients, partners, and society at large."
You may think that marketing is all about digital ads, but it's so much more than that in reality. Marketing managers are responsible for managing budgets and tracking their results; they also have the added responsibility of hiring staff to help out on vision casting/strategic planning and team-building responsibilities. This means staying up-to-date with trends through research.
Marketing managers need to be at the forefront of emerging trends and technologies because their roles are complex. The best marketing leaders understand how important it is to train their teams and themselves.
The high paying job as marketing manager is not easy.  As you can see here, it comes with some high-level of stress.  It is definitely something to consider when you pursue the career of marketing and management.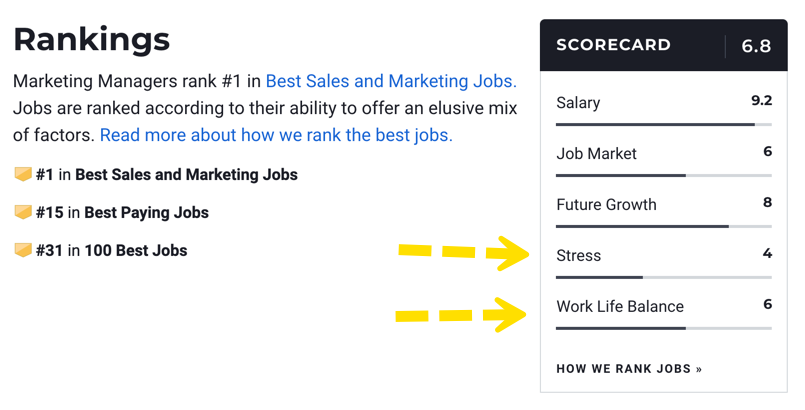 The top 3 marketing manager skills required.
There are so many skills required by the marketing manager role. If I were to choose three prominent skills we need from marketing managers today, they would be:
Planning
Communication
Analytics
Planning skills
Planning is the key to success in any role. Marketing managers need to plan their projects and activities well ahead of time because they have so much on their plate at once that it can become overwhelming if you don't stay organized.
Communication skills
Communication is another important skill for marketers; as we know, communication skills are essential across all industries today. Marketing managers need to be great communicators because they constantly communicate with their team members, outside vendors, and clients.
Analytics skills
The importance of analytics has increased lately due to the development in technology. However, online marketers can no longer afford an analytical mindset to understand consumer behaviors with so much data available.
Why you should care about the median salary of a marketing manager.
You've come to this blog article and read it for a reason. For example, if you've just started your career in marketing, you might be aspired to get promoted and make more money one day. So such a benchmark that adds context to your future role that you want is an important thing to know and have in mind.
If you're a marketing manager today, it is time to check where you're at in terms of career, experience, skill-set, and market value. When you consider inflation, the projected growth of the marketing manager's salary may be totally off. As of today, the U.S. is facing a possible long-term inflation risk. If the stuff we buy costs more but our wages don't grow, that could cause some problems, and how we consume these salary stats to have a sense of expectations.
Keep in mind, the salary range varies by location. When you look at the median salary of a marketing manager in Silicon Valley or New York, it could easily be above $180K a year.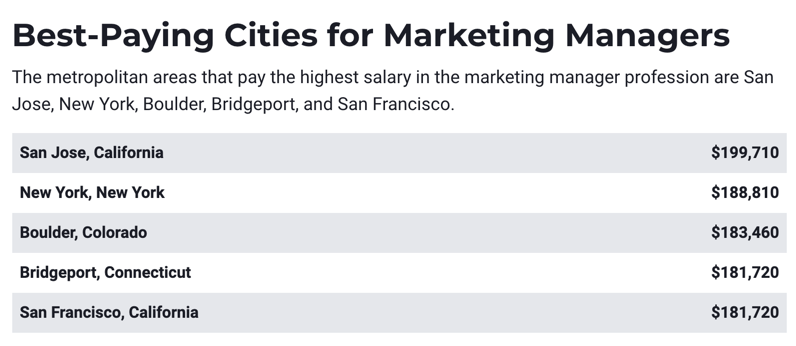 When you look at yourself as a professional resource, it is very important to size up your salary and see where you stand in the market. It gives you the facts and sense of expectations as you negotiate or discuss your pay and compensations with your company.
Thank you so much for taking the time to read my content.  If you've liked what I've had to say please subscribe!
ZoomMetrix Newsletter
Join the newsletter to receive the latest updates in your inbox.
---