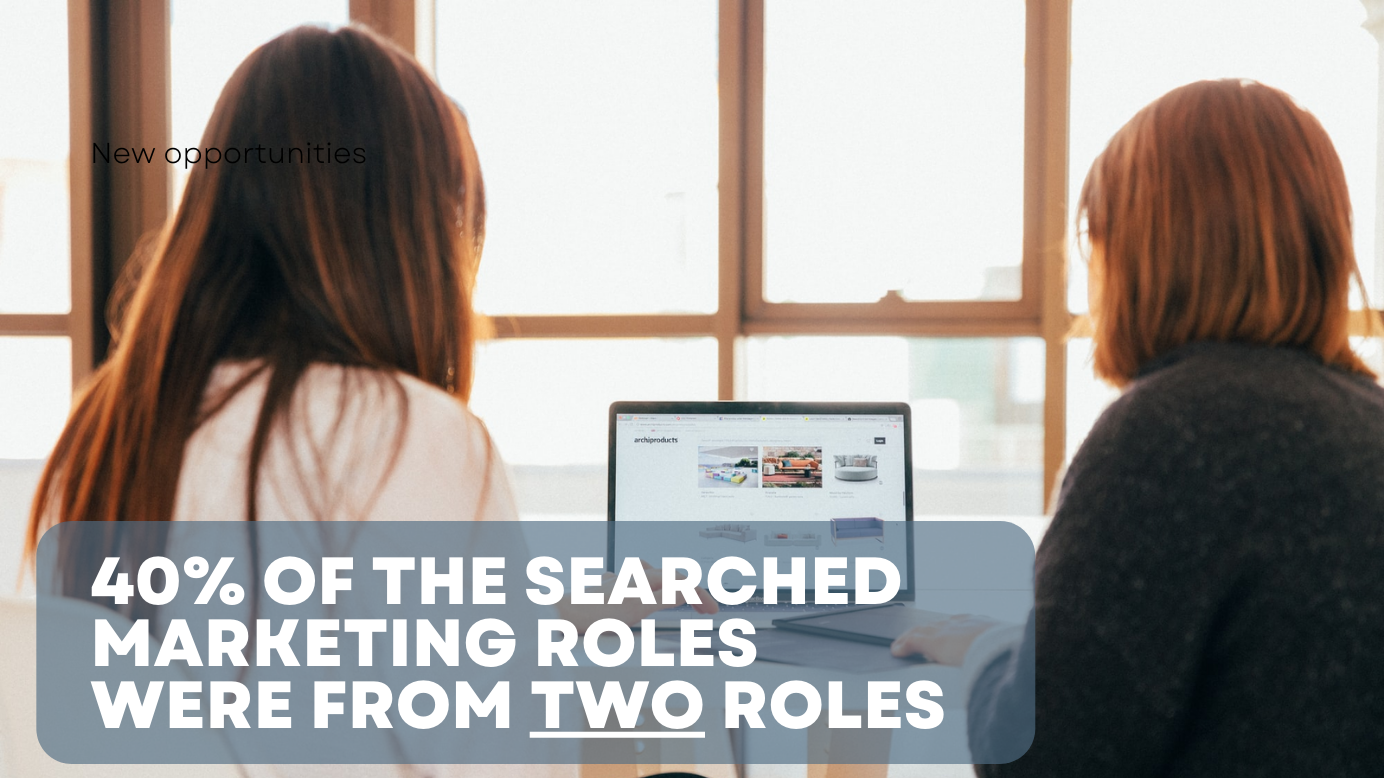 40% of the searched marketing roles were from two roles
Looking at Glassdoor's article (20 Most Popular Jobs for College Graduates), two of the top 10's Most Popular Jobs for College Graduates were roles associated with marketing: Account Manager and Social Media Manager.
Marketing is a popular job many people entering the US workforce want to build their careers.  According to this ONGIG research:
40% of the searched marketing roles were from Copywriter and Social Media Managers.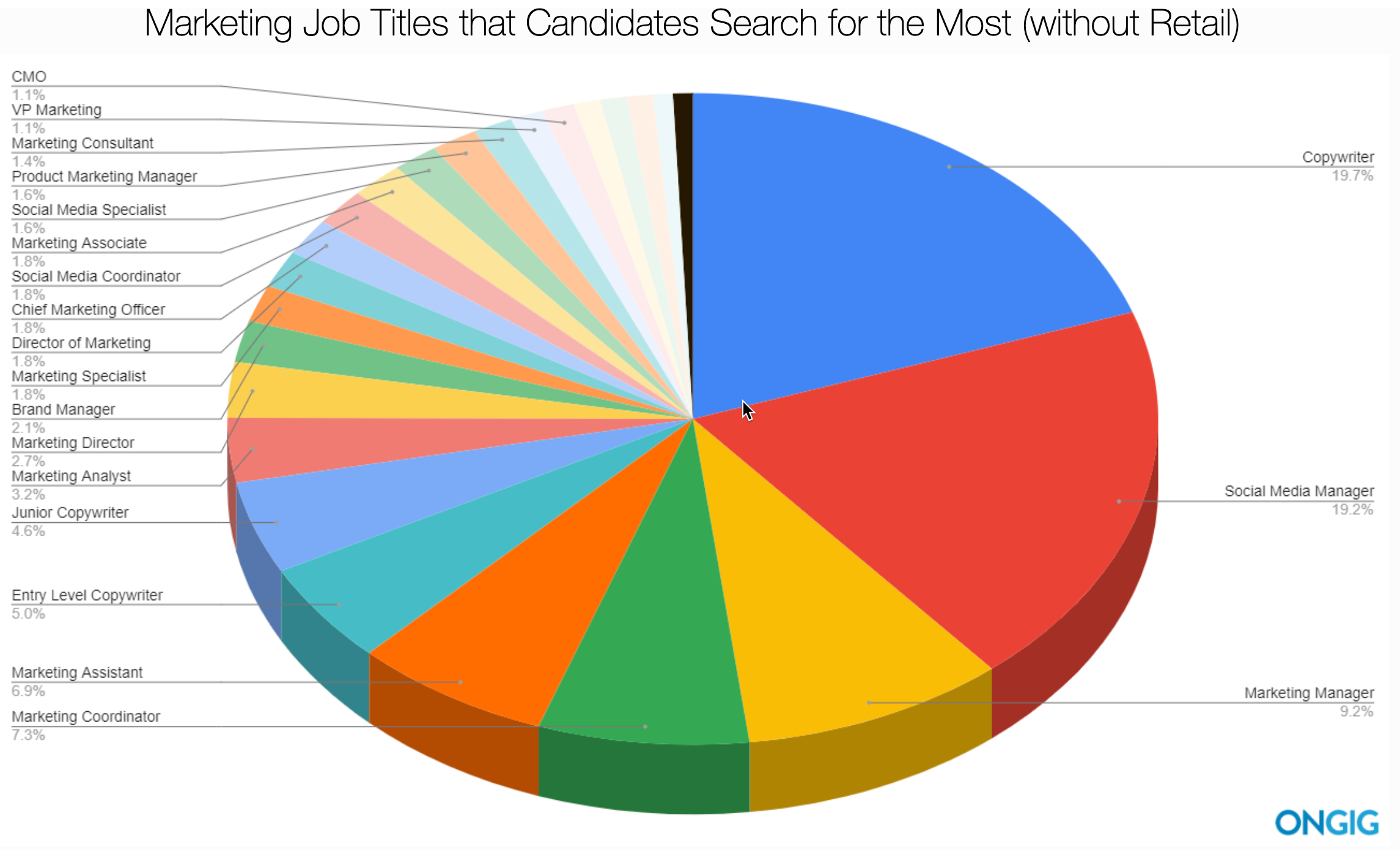 The other 60% of the marketing jobs were from various marketing roles. If you're just starting your career, it may be difficult to know which position is best for you.
The most popular role by far is Copywriter, with almost half of all searches being for this position. As the name suggests, copywriters write effective and persuasive copy for both print and digital marketing.
The high demand for copywriter roles suggests that many people want to write and express their creativity. In a mist of creator economy, it is not surprising to see many people wanting to build their career in this copywriting.
Following "Copy Writer," search for "Social Media Manager" had almost 20% of the total jobs searched for marketing-related roles.
As technology becomes more integrated into our everyday lives, companies seek to hire professionals to promote their brands online through various channels such as blogs and social networking sites.
Social Media Manager will need to be versed and be well aware of the social channels, including Instagram, Twitter, LinkedIn, YouTube, TikTok, Snapchat, Discord, and many more.
The management-related roles account for roughly 20% of the searches.
Manager roles can cover a wide range of areas, but it appears the search share is pretty small.
For example, when I quickly search indeed's listing for a marketing management role in Los Angeles (53 jobs), it does appear to be lower than a Copywriter (280 jobs) or social media manager (229 jobs).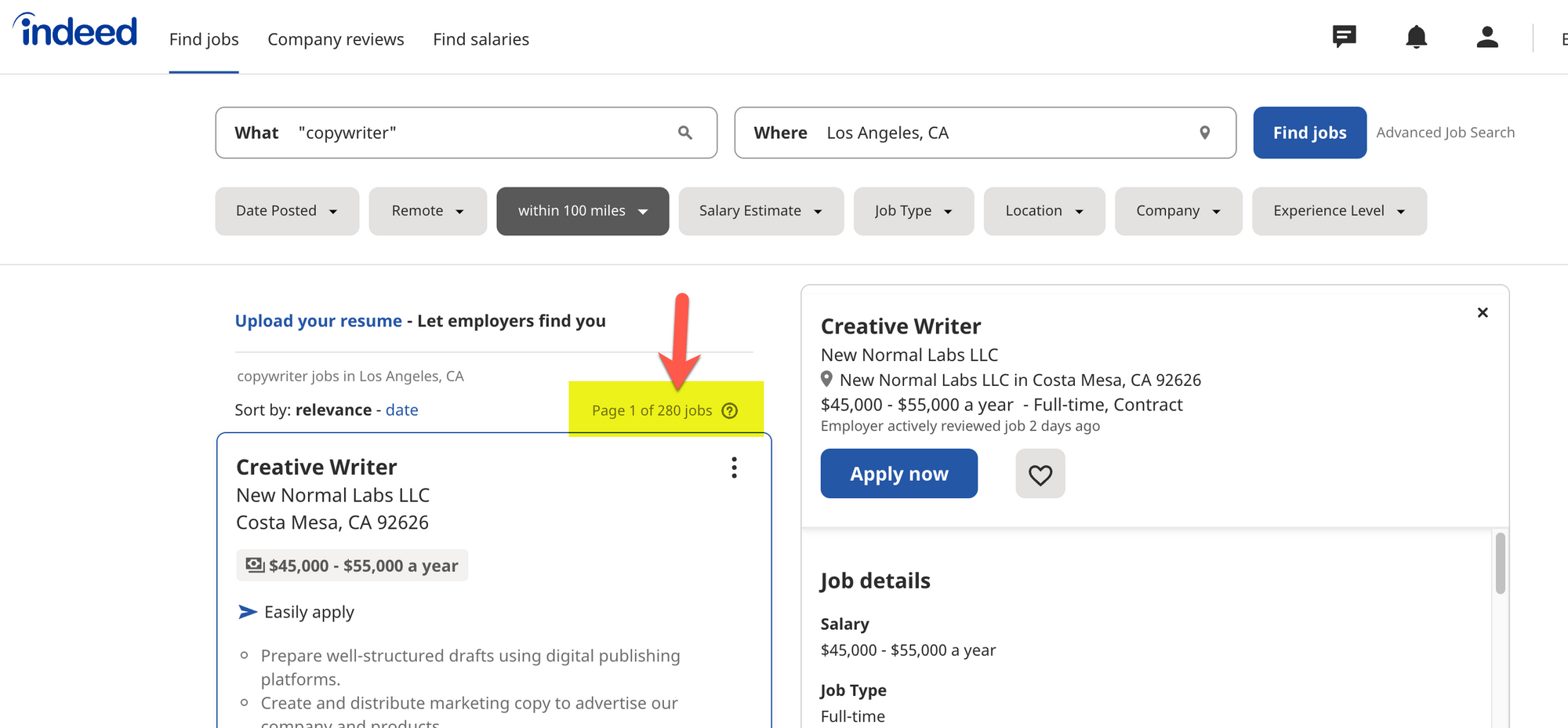 20% of the marketing job searches are entry-level jobs
The other 20% of the search includes "entry-level", "junior", "assistant", or "coordinator". These types of roles can mean different things depending on your industry, but many often include administrative or research-based tasks.
Marketing is a very popular field for many young professionals. While the demand for the role is competitive, the opportunity seems always to be there.
I'm sure there are many more, but these are the three key things that make a marketing career attractive.
The career path is very clear. You could easily build your career to go extremely narrow or aim to go up the corporate ladder.
Job doesn't seem to be going away. Even if you plan to go solo or start your own business, marketing is a critical skill set to have.
Some roles could be at risk of being replaceable by AI and offshore resources. Still, many emerging technologies also support various marketing roles, which makes the job fun and challenging.
How about you? Are you happy with your job and on track to build a great marketing career?
Thank you so much for taking the time to read my content.  If you've liked what I've had to say please subscribe!
ZoomMetrix Newsletter
Join the newsletter to receive the latest updates in your inbox.
---