RevOps: A Growing Demand for the Role and Career
The arrival of Big Data has opened new doors to analytics. The problem is, not all data ends up in a useful place--a lot can be lost or squandered due simply because it's too far away from where people work on their problems every day.
The key now isn't about managing volume. It is more about digital processes engaging with real-time business operations.
Because of this, clusters of operational roles sprung up everywhere across an organization that can use available information efficiently, supporting the back-office and front-office apps, automation, and algorithms.
Each cluster or specialized group has its own "ops" specialists. For example, we may have marketing operation roles like ad operations and content management for our company's Marketing organization.
These different kinds of "operations" require unique skill sets, which means if one member neglects their role, then things will fall apart quickly in that particular area.
What are Revenue Ops, and What Do They Do?
More and more B2B companies are using Revenue Operations (or RevOps) to gain traction in their industry.
RevOps takes control of software, systems processes data for all revenue-generating teams inside a business. It also centralizes four departments; sales operations, marketing operations, a customer success team, and systems.
The outcome is an efficient workflow with better communication between these different groups that work together seamlessly on projects while achieving company goals.
In general, a RevOps team will focus on delivering the following tasks:
Operations management - looks at company policies and business processes to update them and improve how they work.
Enablement - removing obstacles that might stop sales, marketing, and customer success teams from interacting with customers. It helps the company generate revenue.
Insights and analytics - producing reports from various data sources to make workflows more effective and increase engagements across departments.
Technical implementation - procuring, implementing, and maintaining the software for all departments that generate revenue.
Learning and development - providing continuous training to employees on new systems or processes.
Compliance and regulation - ensure that workflow and process meet all company, national, and international standards.
Why is the Revenue Ops role so important?
Forrester's research showed that organizations that deployed revenue ops in some form grew revenue nearly three times faster than those that didn't.
Public companies with revenue ops also had 71% higher stock performance.
Source: https://www.forrester.com/blogs/revenue-operations-and-cmos/
This finding further proves that alignment is key to building a revenue engine. It works by focusing on customers and the company's goals.
RevOps is a way for many companies to work together instead of separating and doing their own thing. It means that sales, marketing, and customer success can work together to make things better for the customers.
It is no longer necessary to keep business data and software separate. More companies are now focusing on collaboration between marketing, sales, and customer success.
That means they can use the same data in these different departments to work together more efficiently.
A typical workflow for most B2B companies goes  little something like this:
When marketing and sales work in sync, the best outcomes happen. This alignment starts with one function: a person who understands both sides to make sure that tools are shared between them or even people will bridge this gap when necessary- like SDRs (Sales Development Representatives).
Communication is easier because there's only one operation going on for all revenue-generating teams. In addition, implementation becomes smoother because someone can manage both departments' needs without having multiple sets of responsibilities across different groups. However, this can get confusing quickly if not handled properly.
This is why the RevOps role is very important, and the demand for such a role is increasing.
Salary of Revenue Ops Role in the United States
According to talent.com, as of December 2021, the US's average revenue operations manager salary is around $111,000 per year.
Entry-level position starts at around $88,000 per year, while most experienced workers make up to $151,000 per year.
This salary looks very attractive. There are regional differences, but California appears to have a higher average salary. It is no surprise that many B2B/SaaS companies in California demand such Revenue Operations role.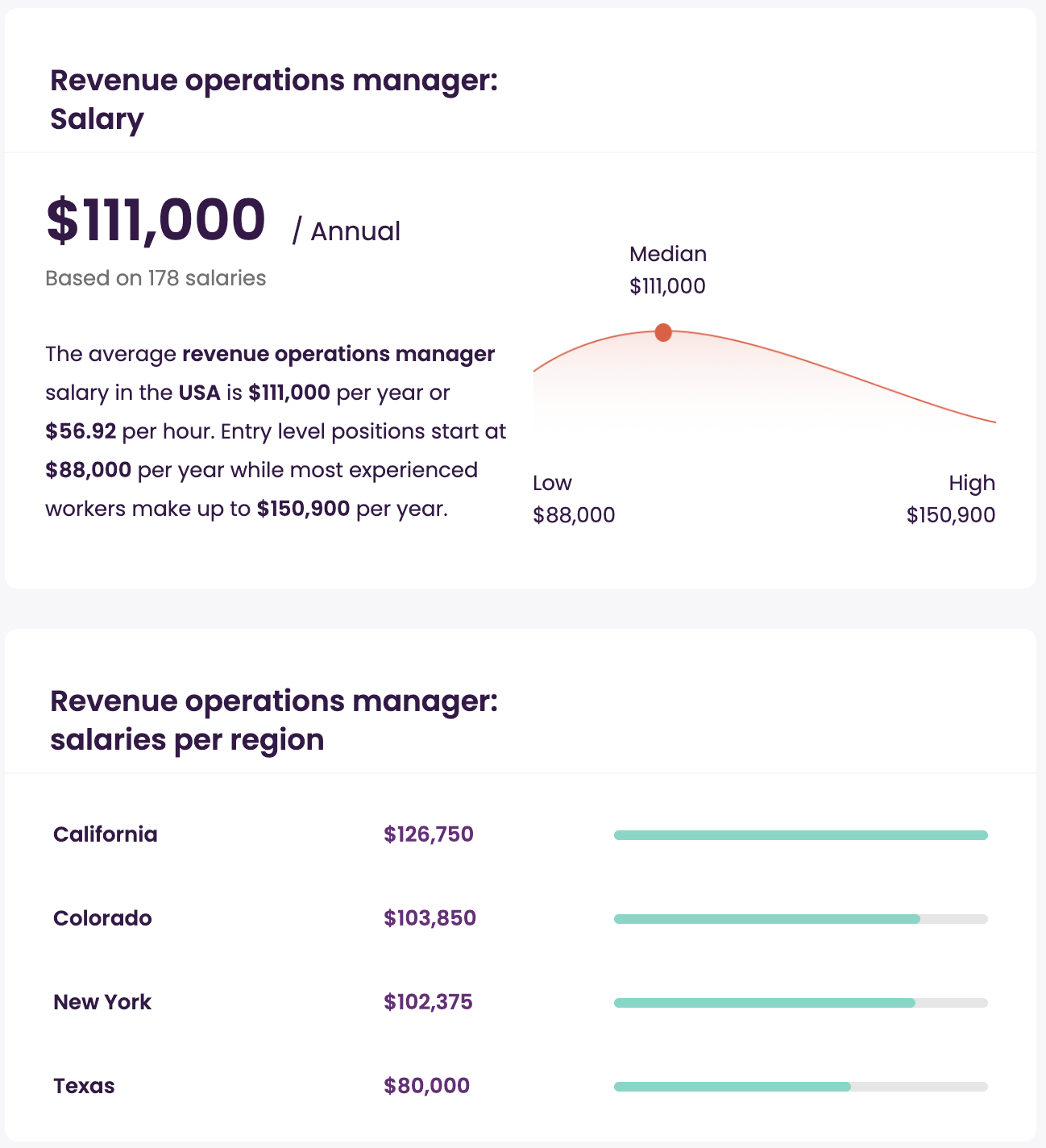 Thank you so much for taking the time to read my content.  If you've liked what I've had to say please subscribe!
ZoomMetrix Newsletter
Join the newsletter to receive the latest updates in your inbox.
---