Top 3 Marketing Skills Required by CMO
I like the CMO survey. It reflects the current state of marketing from the marketing leadership's perspective.
About CMO survey and stats:
The survey is sponsored by Deloitte LLP, Duke University's Fuqua School of Business, and the American Marketing Association. The sponsors support The CMO Survey with intellectual and financial resources.
It gets interesting when you read into the details of the research outputs. So, in this article, I'll deep dive into the results that lead to ideas around marketing skills required by marketing org.
Required marketing skills you need to consider
Here are the top 3 skills I've summarized based on the observations from the CMO survey.  
Driving business outcomes and marketing communications are top priorities for digital marketing efforts.
More marketers will be challenged to demonstrate their return on their resources invested. And marketers will need to work on skills that allow them to better track and communicate their efforts to business outcomes.
This data shows increasing revenue and sales are very important for the marketing organization. However, it is surprising that the 39.2% "Directly driving business outcomes" weren't higher in an age of performance marketing. Nowadays, more marketers are tasked not only to drive traffic or leads for their business but also to contribute to the bottom line.
The pandemic made us realize the importance of digital channels, and many brands have increased their efforts to connect and become relevant with their consumers online. So it is interesting to see "Shaping marketing communication initiatives" being 26.9% is intriguing to see.
In my day-to-day work as a growth marketer trying to grow a digital agency from scratch, it is extremely hard to be discovered and connect with cold leads. The timing, relevance, values, and messaging always resonated with the potential clients that helped move the deal forward; without that good communication when prospects on their first engagement, my job would be harder.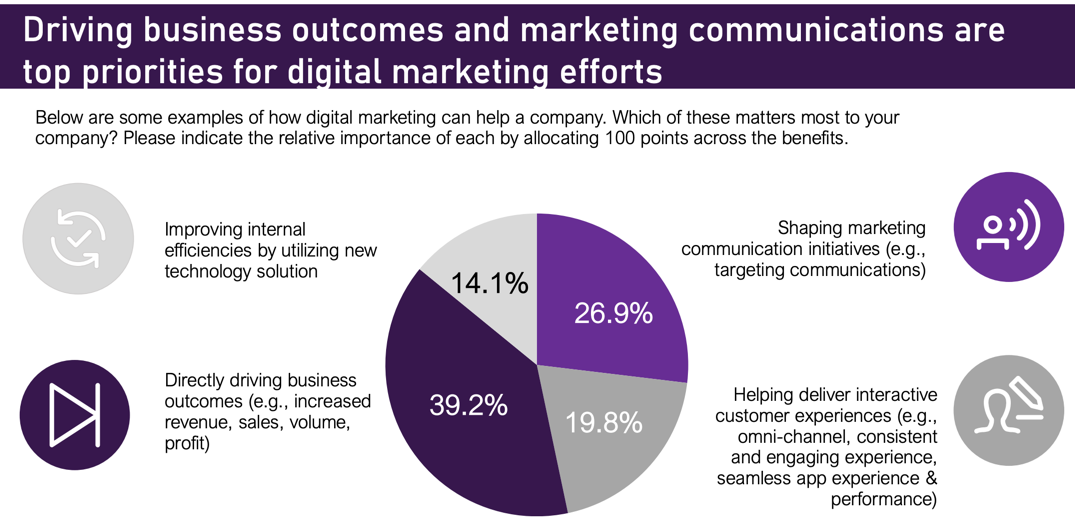 Artificial intelligence and machine learning use still fledgling, but major investment into optimization and automation is planned.
Marketers need to understand how Machine Learning and Artificial Intelligence could help their job and tasks. We cannot avoid the rise in AI and how it impacts marketers.
As you can see from the survey result below, usage of AI and ML in marketing is projected to grow 220%. So what jobs will be impacted in a good or bad way?
In a good way, the adoption of ML and AI will make us marketers a lot more productive. That means we can spend more time on strategic work.
I would expect an operational role like a campaign manager's job to be more automated. Ad tech tools are becoming more robust and smarter. We're starting to see the ad management tools helping campaign managers become more effective and productive. In addition, such devices are becoming more accessible and affordable.
Part of that reason is with the operational tools, but the ad tech platforms on Google or Facebook side are also getting better and more effective.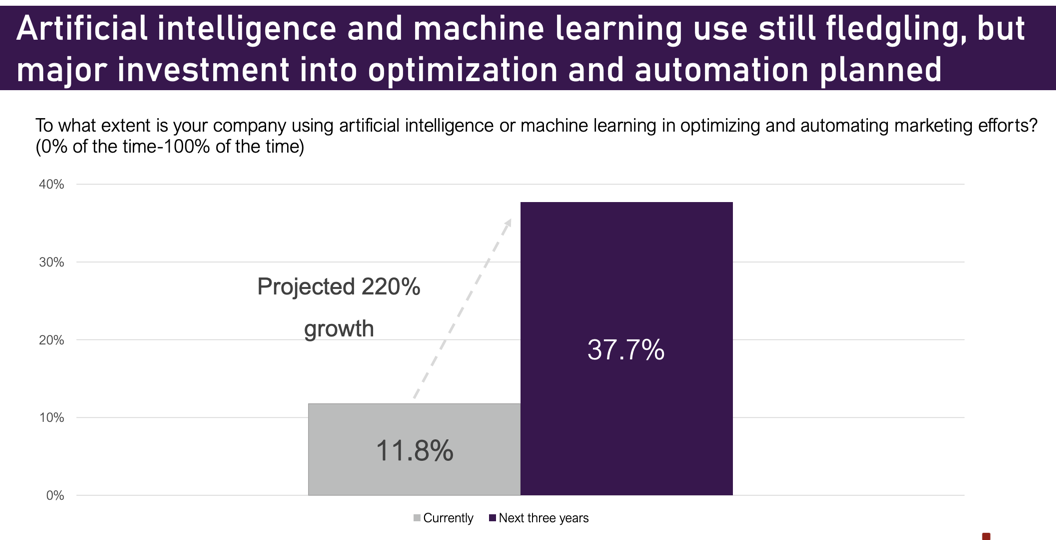 Sales and revenue are measured regularly, while brand and customer metrics are ad hoc.
When I look at the results below, it is not surprising to see sales and revenue are being frequently monitored. However, it was interesting to see analytics around customer measures are the least updated metrics. This implies marketers would need to learn and apply customer behavior analysis more.
Tools beyond Google Analytics came out of product analytics like Heap and Amplitude that help marketers analyze their data with speed and agility in mind. Also, many devices can measure individual users, so it is not the tools issue if there are any challenges in measuring user-level data.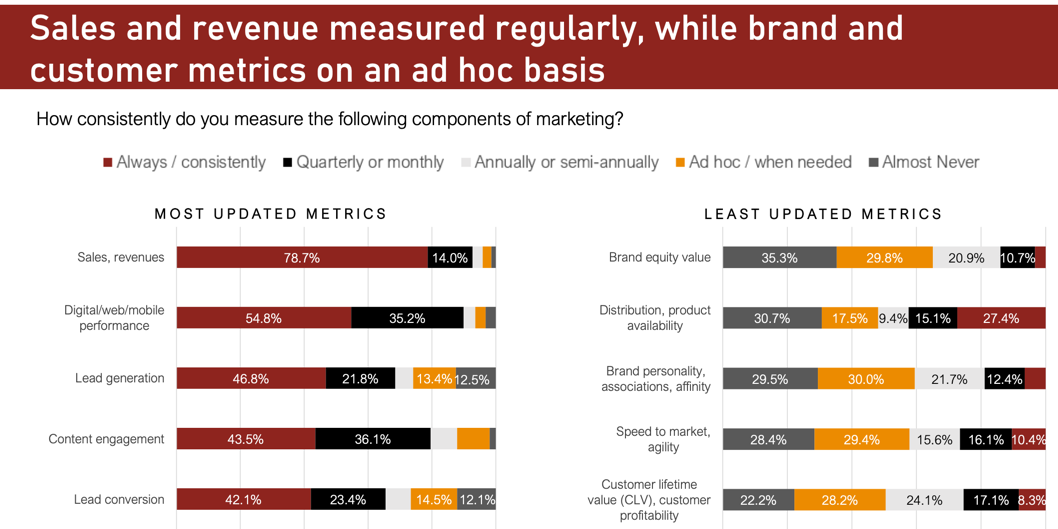 In Summary
Based on the current state and the outlook from what marketing leaders respond, if I were to summarize the skills marketers need to focus on building, they are —
Business acumen skills beyond marketing.
Learn how Artificial Intelligence and Machine Learning works and how it applies to your role
Learn customer metrics and ways to analyze CLTV
What are your thoughts on this? How would you take the inputs and apply them as your output?
Thank you so much for taking the time to read my content.  If you've liked what I've had to say please subscribe!
ZoomMetrix Newsletter
Join the newsletter to receive the latest updates in your inbox.
---