How to Identify Brand Popularity Using Google Insights Search
The great advantage of Search Engine Marketing is that you can get a deeper understanding of what people are interested in and target ads based on what keywords are searched.
In addition, search engines like Google store the information users search and provide that data to support ad agencies, small businesses, corporations, and researchers.
For example, Google's "Insights for Search" gauges interest in pertinent search terms. This is interesting since we can now see search trends and compare them against other terms.
It can help us determine trends in seasonality, brands vs. brands, choosing ad messages, and opportunities by geolocation.
In this post, I'll use an example from major shoe companies and see what this "Insights for Search" tool can do for us.
Note that this tool may change and be deleted by Google anytime. So this example and material could be outdated in the upcoming months.
I chose the keywords Nike, Adidas, Puma, and Reebok in my example. These are pretty popular shoe brands out here in the USA. After entering these keywords and selecting 2008, the following appears.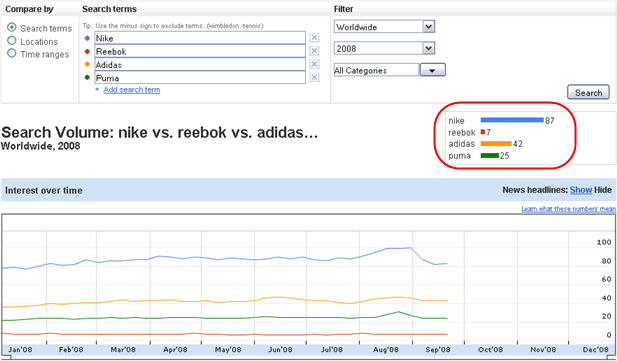 Note that the index values circled in red is "normalized" values. That means it allows the underlying characteristics of the data sets to be compared. For example, Nike is very popular, meaning that Nike has better brand awareness than other shoe brands. However, the term Puma could associate with the animal Puma and some additional product names.
Let's narrow the category to Shopping > Apparel > Footwear and set the country to the USA. Very interesting! Now Adidas and Puma have the same interest level of 25.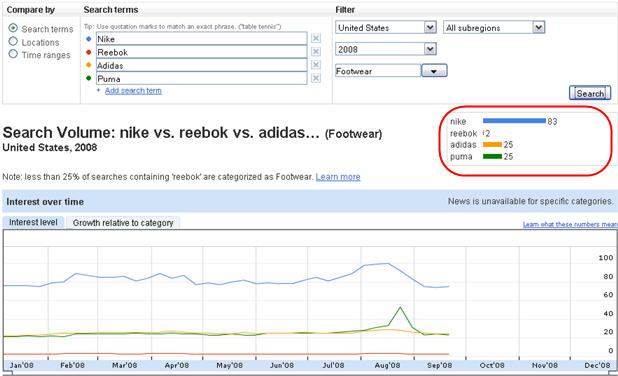 This is very interesting because the spike in August for Puma tells me that they must have done something around Beijing Olympics to capture higher awareness and interest amongst the people in the USA.
My hypothesis is, Usain Bolt (Jamaica's sprinter) was wearing Puma shoes, which caused a viral effect on consumers to search online. Well, that's for you to research and confirm, and hopefully, you can prove me right.
I like the "Growth relative to category" tab next to the "Interest level" tab. It shows you how each term or brand is relevant to its category. I stretched the timeline from 2004 to the present and noticed something crazy going on with Reebok in 2005. What happened there, and why is it trending downwards after that.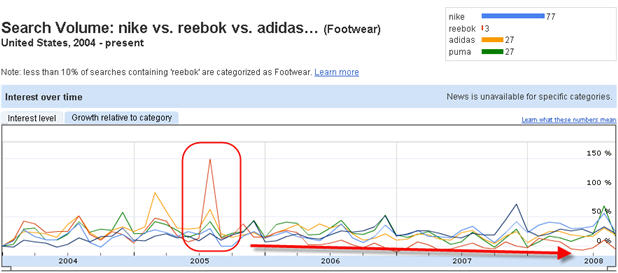 Although Adidas seems pretty stable within its category, I've noticed the growth level was high in Germany. Check it out (below)! Also, it is interesting to see it peeking at 2006 summer. If you follow soccer, you'll immediately know that Germany hosted the World Cup in June 2006. I also find this chart interesting because Nike is growing and has the highest growth rate in 2008. Good job, Nike.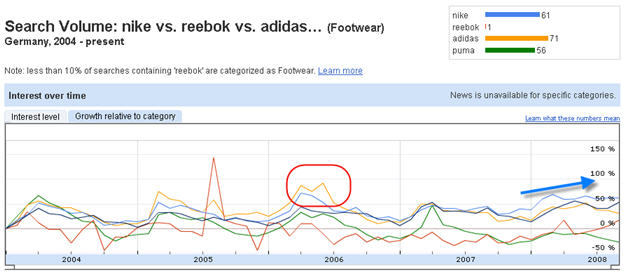 I can go on and on, breaking it down by regions and search terms, including rising terms. However, I'll stop here, and I hope you get the point. This tool is pretty powerful to trend brand awareness and interest. I hope this will help you better understand the search and how it can help you research the market. To those marketers for Nike, Reebok, Adidas, and Puma, I hope this helped you, too. Enjoy analyzing!
Thank you so much for taking the time to read my content.  If you've liked what I've had to say please subscribe!
ZoomMetrix Newsletter
Join the newsletter to receive the latest updates in your inbox.
---