How to Come Up With a Keywords List for SEO
For those who own a site promoting their products or simply writing blogs, I assume there are times you consider thinking and generating keywords for SEO.
First, I need to say that since Google has limited its visibility on keywords for Organic Search within Google Analytics, I've been using Google Search Console with Tableau to analyze my content's performance and its associated keywords. I get ideas from this to optimize content.
Example image: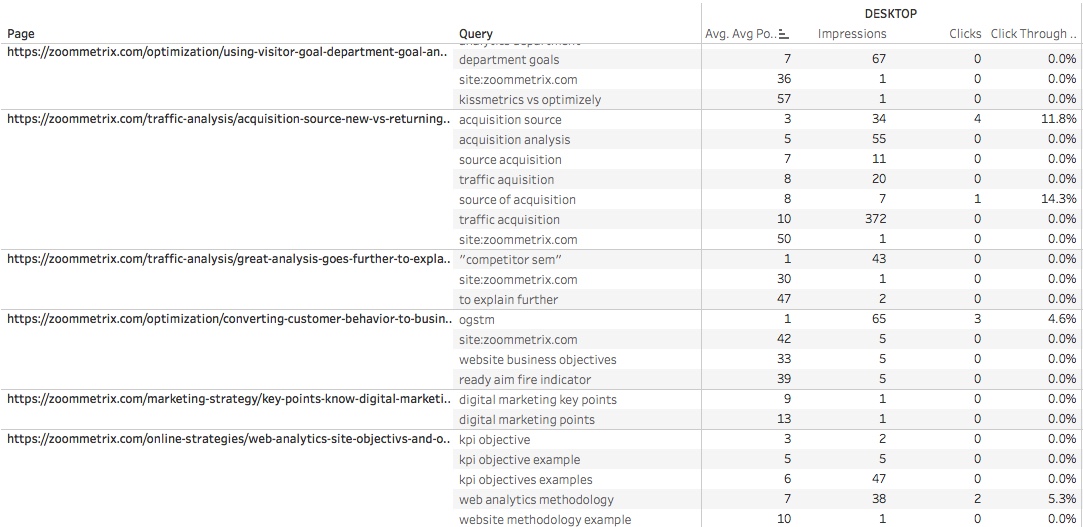 Also, what keywords to focus on will be based on whether I have covered a particular topic already or not.
For SEO, you want to use more relevant keywords to what users are searching.
You also want to consider choosing the right combination of terms to match the keywords that are searched more than other relevant keywords.
So here is a basic process to kick off your list of keywords that are more user-centric.
For this specific example, I will use search terms relating to SEO to develop possible content ideas and keywords relating to SEO that is relevant and effective.
1. Create a general list of keywords. Perhaps five of them. Let's call this List-A.
It is advised to start by thinking about your readers and/or customers. Try not to come up with terms that are too granular.
Start with general terms that associate well with your readers.
You can ask your friends, family, customers, and colleagues. Let's start with these examples.
List-A: SEO Optimization Tools
2. Do some research! Then come up with the second list of keywords. Let's call this List-B.
Find out what your users are talking about or searching about SEO.
Visit your competitor's websites: Check their backlinks and keywords they are targeting
Visit blogs of your industry.
Check out reviews, comments, and testimonials.
List-B Keywords Research
3. Combine the two lists Final List = List-A + List-B
The final List will "SEO Optimization Tools for Keywords Research"
4. Analyze the list and come up with a keyword matrix
I recommend using Google AdWord Keyword Tool to develop potential keyword-related terms for your SEO strategy.
Once you make the first column within the keyword matrix table, select relevant terms associated with your content. Then, create additional columns based on your keyword selections.
You have a list of keywords that you could potentially use to optimize your pages for better search.
Some of the tools that allow you to do research are:
SEMRush
Moz
Google Search Console
Google AdWords Keywords tool
SpyFu
For enterprise folks, check out Conductor
I'd also recommend leveraging competition and CPC data given in the Google Keywords Tool to understand the demand of the searched keywords.
Thank you so much for taking the time to read my content.  If you've liked what I've had to say please subscribe!
ZoomMetrix Newsletter
Join the newsletter to receive the latest updates in your inbox.
---