Landing Page Optimization 101 - LPO
How many analysts analyze the landing page and optimize the page to make it work better for your site's goal? Probably most of you are doing landing page optimization.
I'm not sure, but it is an important marketing discipline that every marketer should maximize your website traffic.
Even if you're acquiring qualified traffic to your site, if your landing page is not effective, then you'll end up sending away from your website or brand.
I want to re-introduce to you Landing Page Optimization or LPO. The reason is, I feel like minimal effort can go into LPO and make your site even more effective.
Some of the key areas of what you'll want to see from LPO is reducing bounces so that you can help move your audience down the funnel and increase conversion.
Here are some of the key techniques and data points to analyze in your web analytics tool to ensure the right page is chosen for your landing page optimization.
I will use Google Analytics for my examples.
1) Top Landing Page & Bounce Rate
Select the top landing page report for data from x to y date. Then click on the "comparison" view, which is on the right of the four view selections. Finally, select "Bounce Rate" to see the bounce rate of each landing page against the overall bounce rate average.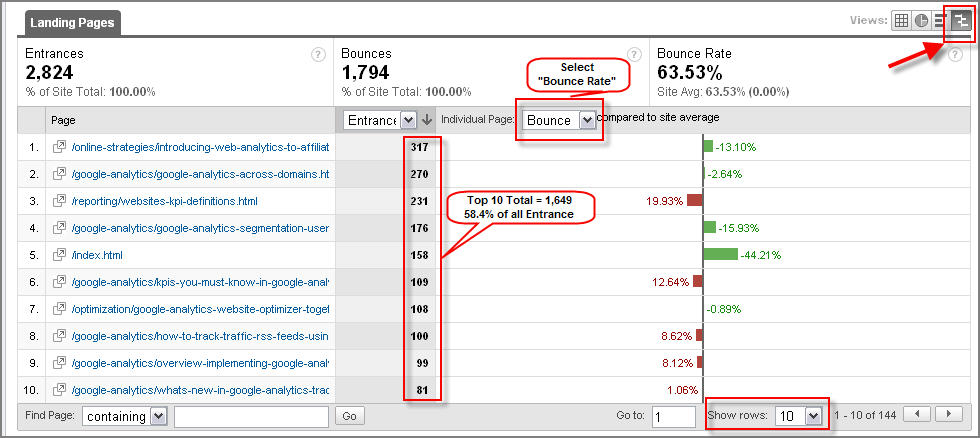 This example tells me, 58.4% of all entrances occur from the top 10 landing pages. In other words, the full ten landing pages, out of 144 landing pages, contributed 58.4% of all site entries.
You would want to concentrate on your top 10 landing pages before you even jump into optimizing other pages.
2) Set a Goal to reduce the bounce rate.
Currently, the overall site's bounce rate is 63.5%. Say you want to reduce that to 50.0%. Let's do the math.
Bounce Rate = Total Bounces / Total Entrances = 1,794 / 2,824 = 63.5%
Desired Total Bounces = (Desired Bounce Rate) x (Total Entrances) = 50.0% x 2,824 = 1,412
Amount of bounces required to reduce = 1,412 – 1,794 = 382 OR 21%
This will give you a clearer picture for the actual amount of bounces you need to reduce in order to achieve the desired overall bounce rate.
Just looking at the top 10, here, we have the opportunity to optimize five landing pages. Because we know that these five pages are performing worse than the overall bounce rate (63.5%), we have the opportunity to reduce 393 bounces.
393 bounces = [(231+109+100+99+81) x 63.5%].
These 393 bounces are around par to many bounces I would like to see improved.
3) Why are people bouncing from these pages?
This is a very broad topic. Every page is probably unique, and users arrive on that page differently. So I'll introduce a few tactics in approaching what to think of before tackling your page optimization.
a) Traffic sources look at the traffic sources of each landing page by drilling down to each landing page and selecting "source."
Is it the search engine driving traffic and causing bounces?
Is it other referring sites driving traffic to this landing page?
Are the campaigns you're investing in driving higher traffic to these content causing high bounces?
If most landing page users are arriving by a specific phrase or keyword, maybe there is something about the page that is not relevant to people's search. (Google no longer passes Organic Search keywords into GA)
Also, what is touted on the referring site is not relevant to the actual landing page. Once you get a firm understanding of where users are coming from, you'll getter a better sense of what users are experiencing.
Double-check your content and page's headline, CTA, imagery, content to see if you're serving the value that your audience is looking for.
Apply the findings to your optimization.
b) Page layout and creativity since every content is unique, going through every single content on your page is pretty painful if you serve thousands of pages. That is one reason why I looked at the top 10 landing pages.
After looking at the traffic source, another area to look at is your actual page. Your page may serve the right information, but it doesn't necessarily address and represent the information in a user-friendly manner.
You might want to ask yourself the following questions.
Does the page has an exit link towards the top? If the page has an exit link (or any links to other sites) towards the top of your page, users may leave your site even before they finish reading and click through to another page.
Is your page too wordy? People may lose interest when they see a page full of text. You might want to consider breaking out the paragraph and putting some images if necessary. Give your users' eyes some break.
Are the color, layout, text size, or creativity causing a bad user experience? Might want to consider testing these elements as well. I don't want to read a blog with shocking pink or neon yellow background.
c) Integrate VOC (voice of the customer) survey on your pages. Tools like Qualaroo or HotJar allow you to take feedback from your website or pages. For example, if your users are not finding the information they were looking for, you may want to ask them what you missed delivering. That could be the major reason why people are bouncing off your page.
Optimize and Test
Once you have identified the areas of improvement, you may want to consider executing your changes and testing them. Again, I recommend using tools like Optimizely, VWO since it is pretty affordable, and you'll acquire just enough learnings from doing an A/B test on your website.
Measure, analyze, optimize, and validate against your goal. This is my basic foundational teaching of the process to make your website perform.
You might have to give it a few days for the site to acquire a significant amount of traffic data.
Enjoy optimizing your landing page!
Thank you so much for taking the time to read my content.  If you've liked what I've had to say please subscribe!
ZoomMetrix Newsletter
Join the newsletter to receive the latest updates in your inbox.
---