Examples of Website Objectives and Outcomes
This post will introduce some examples of an analytics matrix that lists website objectives and business outcomes.
The three specific desired business outcomes from a website are:
Increased Revenue
Reduced Costs
Improved Customer Satisfaction and Loyalty
The three main business objectives for making a website are:
Reach your audience and engage them
You need to know how your acquisition initiatives impact your desired outcomes in growing revenue.
So the three key points would be to address how your customer acquisition strategy would increase revenue, effectively maintain the acquisition cost under your target, and build a customer experience where customer satisfaction would be great.
The majority of marketers would focus on how to better reach and target your ideal customer profile.
Convert your audience into customers
Your tactics in increasing conversions positively impact the revenue, reducing costs, and customer satisfaction.
You, as a marketer, would do is to build and improve the conversions.
CRO would be a known marketing discipline that helps you improve conversions.
Retain your customers
How did your customer retention efforts impact your revenue, costs, and improved satisfaction or loyalty? This would be the key business question this area of work would be focusing on addressing.
Your analytics framework should support you and enlighten your key stakeholders with actionable insights on the desired outcomes of the website's objectives.
As referenced in the table below, there could be nine main points where you can get started with inspiration and possible actions through data.
Some parts may not be clear. For example, with "Acquisition as your website's objective while aiming for a cost reduction," you may ask how you can reduce cost when investing your money to drive traffic?
Maybe one of your user acquisition strategies is SEO or Organic Social. So that you could spend "less" on a paid advertisement and drive free traffic to your website, in the long term, you may want your organic channels to drive traffic without having heavy dependencies on paid advertising channels. You can also optimize your ads to drive more traffic ad lower Customer Acquisition Costs (CAC).
Here is the matrix in a table format.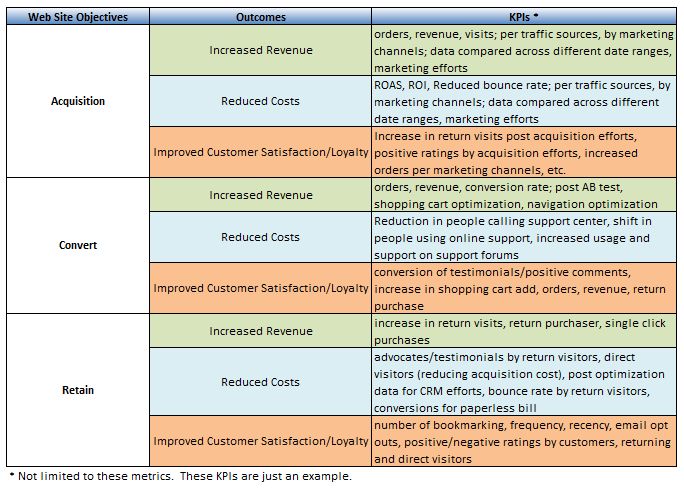 These KPIs are just examples, but I hope you get the point.
The challenge of marketing analysts is to work with various stakeholders who may have very different objectives and goals. Those stakeholders could be marketers, sales, managers, executives, customer support, etc.
Even if this framework explicitly clarifies what measures should be prioritized for what goes into measuring the success of your online business, if there are no actions, then the data could become useless.
💡
The main point of this visual table is for web analysts to make better decisions by connecting the dots between the business objectives and your website's main objectives.
Key Performance Indicators won't tell you the story. It won't tell you what worked or did not work. Instead, you will need to dive into the data and analyze it to be confident in the findings to understand the next actions.
Or you can work with a marketing analyst to help you bring the insights you can address so that your business can crush it.
Don't forget the three basic principles of business outcomes, and do your analytics magic to find actionable insights through the metrics you think are important.
Remember, connecting the dots (analysis) is the fun part of marketing analytics.
Thank you so much for taking the time to read my content.  If you've liked what I've had to say please subscribe!
Join the Marketing Analyst Collective
This Collective will personally match talented marketers with data acumen to high-growth, high-upside opportunities at some of the most exciting companies.
Join & Get Hired
ZoomMetrix Newsletter
Join the newsletter to receive the latest updates in your inbox.
---