How to Use Web Analytics to Increase Qualified Traffic
Web analytics could tell you which of the content on your site is popular based on traffic coming from different sources.
However, with an emphasis on search engine marketing, I'd like to discuss several other options for you to determine the content demand from your audience so you can create one to drive more qualified traffic to your website.
Traffic coming from search engines would involve some keywords users searched on Google, Yahoo!, Bing, etc. Search engines would serve relevant content based on their complex algorithms and indexed pages (search engines' inventory).
The majority of web analytics applications would tell you what keywords users used to arrive at your site or pages. If you segment your traffic from search engines and view top content, you'll be able to see which of your site content has the most traffic from search.
Search engines would serve relevant content based on their complex algorithms and indexed pages (search engines' inventory).
The majority of web analytics applications would tell you what keywords users used to arrive at your site or pages. Except Google has limited that visibility in Google Analytics, so there isn't much, we can do here.
However, if you're investing in paid search ads, you'll be able to capture the keywords that users have searched and arrived at your website.
My favorite tool to accomplish this is Google Search Console. Google Search Console allows capturing the impression, clicks, Avg position of your page, and the search phrase users use on Google.
This tool is very powerful, and every content marketer should use it.

Here is an example of Google Search Console data I exported and analyzed through Tableau.
This helps me understand the page's exposure on Google's SERP (search engine results page) by people's different search terms.
I like looking at the content and the search terms to see if there are any gaps so I can further optimize the title and the content to match the user's demand.
If you're trying to use web analytics applications to determine what content to add or write about, I would be careful about a few things.
First, web analytics and referrals from a search are only based on the available pages.
Second, web analytics applications won't tell you the content demand; popular search keywords don't equate to many people are searching for those topics.
To shed a little light on web analytics tools, perhaps you have a page writing about topic A, but you may coincidentally have many keywords within that page related to topic B.
In that case, you could be lucky in a sense that users searching for topic B could end up on your page about topic A. Bounce rates for it could be high, but I would keep an eye on this aspect.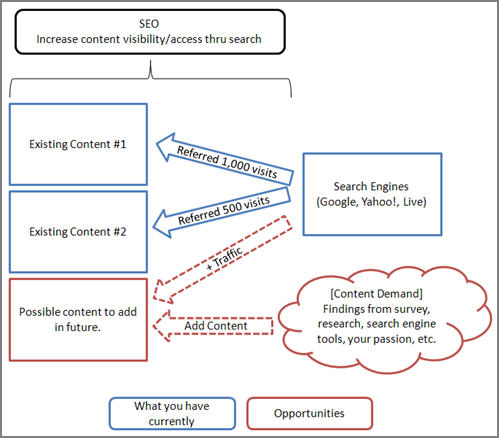 When you need to decide if you want to combine the content, then use 301 redirect to route your traffic to the page you killed to the enhanced page.
Opportunities
What content should you add? Of course, your goals and objectives would be different, but something to consider as you decide what to write your plan or purpose could be:
Reach your target audience who are interested in XYZ, and drive more traffic to your site
Build engaging content to reduce bounce rates so that more people are signing up for your email newsletter
Write content that is so engaging that more people will share the content, so you build your Facebook audience for future targeting of ads.
Since this article emphasizes search engines traffic, I would like to state SEO (search engine optimization) as a suitable method to increase traffic for current and upcoming pages. There are several tactics to consider if you're adding content to increase traffic from search engines.
1) Make sure your SEO due diligence is well executed
Page Titles, Meta Descriptions, Linking across internal pages, seeing pages on social networking sites, updating your sitemap XML for better indexing.
After doing the basic SEO practices, I doubled (even more for some sites) site traffic from search. Be aware of black-hat methods and stick to the basics first. Tweak your site little by little, and you'll notice the difference soon.
2) Run surveys, polls, and quizzes.
Your users would tell you what they like and what they don't like. Then, depending on how you question your users, they can tell what they want to know more about.
It is amazing to hear directly from your users, and it can't get better than raw voices. Of course, this may be limited to how you ask your users, but it would be a tactic you want to execute.
3) Do tons of research.
There are so many ways to research and even know what to research. First, however, leverage what's available online to see what topics are hot in your industry, has buzz, sites with much traffic.
This can inspire you on what to write next and generate new traffic opportunities. Seasonal or annual events would be a great way to guess what users would be searching for and want to read.
4) Utilize tools available from search engines.
I love Google tools such as Google Search Console, SEM Rush, Moz Tools, BuzzSumo. These tools would open your eyes to keywords and content topics that could give you an idea of what you can add to your website.
5) Add content and measure.
Track what kinds of content are available and understand what you added or wrote on your website.
That spike in traffic could be that new article you wrote on XYZ. Maybe you can write more about that to give your reader more context and opportunities to think and comment, but to make sure the content is not redundant.
Thank you so much for taking the time to read my content.  If you've liked what I've had to say please subscribe!
ZoomMetrix Newsletter
Join the newsletter to receive the latest updates in your inbox.
---