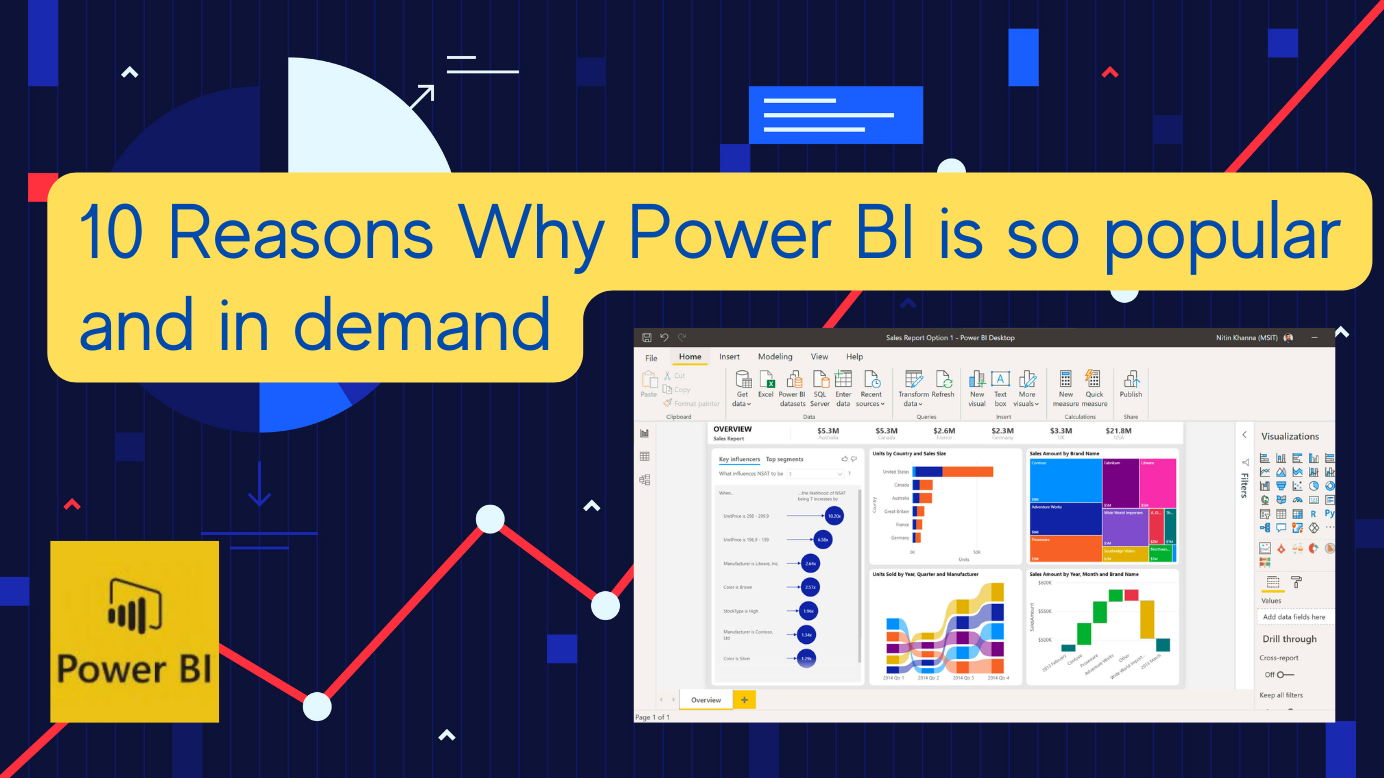 10 Reasons Why Power BI is so popular and in demand
Microsoft Power BI is a suite of business intelligence (BI), reporting, and data visualization products and services. It is good for organizations because it integrates well with other Microsoft products and services. It also has streamlined publishing and distribution capabilities.
There are several products under the Power BI solution. It definitely worth reviewing those to get yourself familiar with what Power BI has to offer, especially if you're interested in investing in Power BI.
Power BI service
Power BI Desktop
Power BI Pro
Power BI Premium
Power BI Report Server
Power BI Embedded
Power BI's market share is growing, and it is becoming popular. Here are 10 reasons why Power BI is in demand:
1. Power BI is easy to use and doesn't require any coding skills.
Power BI is based on Excel which is a globally accepted and widely used software. This makes Power BI easy to learn.
That said, Power BI has a very simple and easy to use interface. You do not need any programming experience to use Power BI. It has built in intelligence that will help you select the best attributes for your reports.
2. Power BI is very visual and allows users to create beautiful reports and dashboards.
Power BI's ability to create beautiful dashboards and reports is one of the main reasons for its popularity.
The visualizations in Power BI are interactive and allow users to explore data in new ways. The reports and dashboards can be customized to meet the specific needs of the users.
In my opinion the tools do not hinder analyst's ability to create a nice looking dashboards and reports.
3. Power BI integrates with many popular data sources, making it easy to get started.
As of this writing, from this Microsoft documentation, I've counted 135 data sources where Power BI Desktop can connect to.  That is a lot of data sources that the tool can support.
https://docs.microsoft.com/en-us/power-bi/connect-data/power-bi-data-sources
4. Power BI has a huge online community, making it easy to find answers to any questions.
The community provides a great way to learn about Power BI and to find solutions to any problems you may have.
The Power BI community is one of the biggest and most active communities. There are many experts who are willing to help you with any problems you may have.
You can see from Power BI Community that there are tons of discussions around Power BI, and it appears to have a very large community base.
5. Power BI has many built-in features, making it very powerful.
Some of the built-in features include: data transformation, data modeling, DAX (Data Analysis Expressions), and connectivity to many data sources. These features make Power BI a very powerful tool.
6. Power BI is constantly improving, with new features being added all the time.
You can review the Power BI updates archive here.
A lot of the updates are revolved around the visualization, data connectors, data modeling, etc. In general, the features are updated on a monthly basis.
7. Power BI is affordable, with a free version available for personal use.
Power BI Desktop is free, and Power BI Pro is only $9.99 per user per month. That is very affordable when you compare it to the price of other business intelligence tools.
8. Power BI is available on many platforms, making it accessible to everyone.
Power BI desktop is is available on Windows, but users can access the Power BI dashboards from various platforms (Windows, browsers, iOS, Android, etc.)
9. Power BI is trusted by many large organizations, making it a reliable solution.
Power BI has three main licensing options: Power BI Desktop, Power BI Pro, and Power BI Premium. Many enterprises trust Power BI as their business intelligence solution.
Microsoft is committed to making Power BI the best BI solution. The Power BI team is constantly innovating and adding new features.
The partner showcase, and community can help businesses find the right partners, which is a very important aspect for business to factor in when choosing a BI solution.
10. Power BI is the future of business intelligence, making it an essential tool for any organization.
The Gartner's Magic Quadrant data in Feb 2021 showed Microsoft (Power BI) being the leader.
With a 36% market share, Power BI is the most popular data analytics platform among businesses. Power BI's market share being 1.8x higher than Tableau is pretty significant.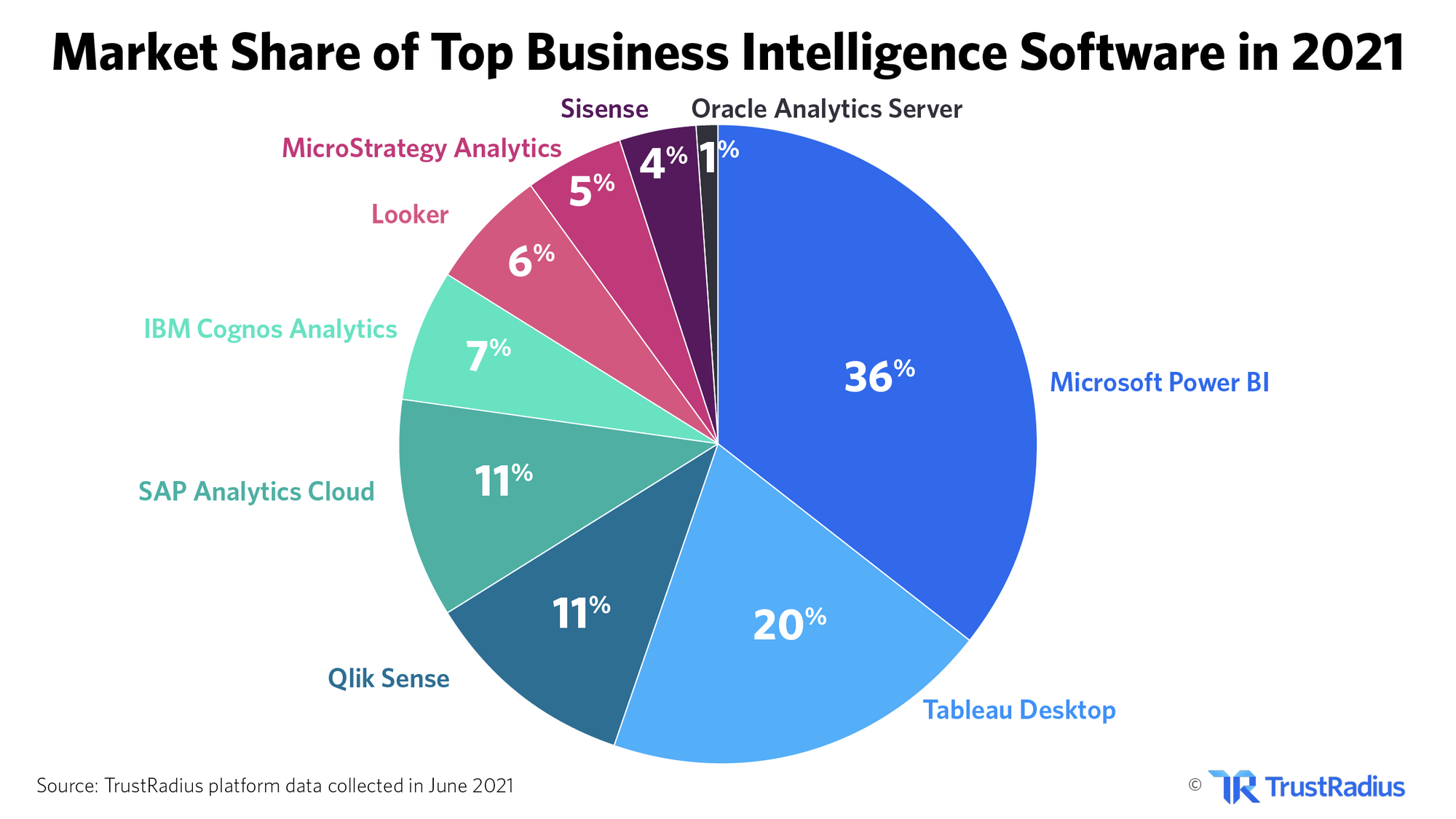 In summary
Microsoft is still the best choice for visualizations. It's simple to use and has a lot of options. This makes it good for both experienced data analysts and people who are new to data analysis.
ZoomMetrix Newsletter
Join the newsletter to receive the latest updates in your inbox.
---