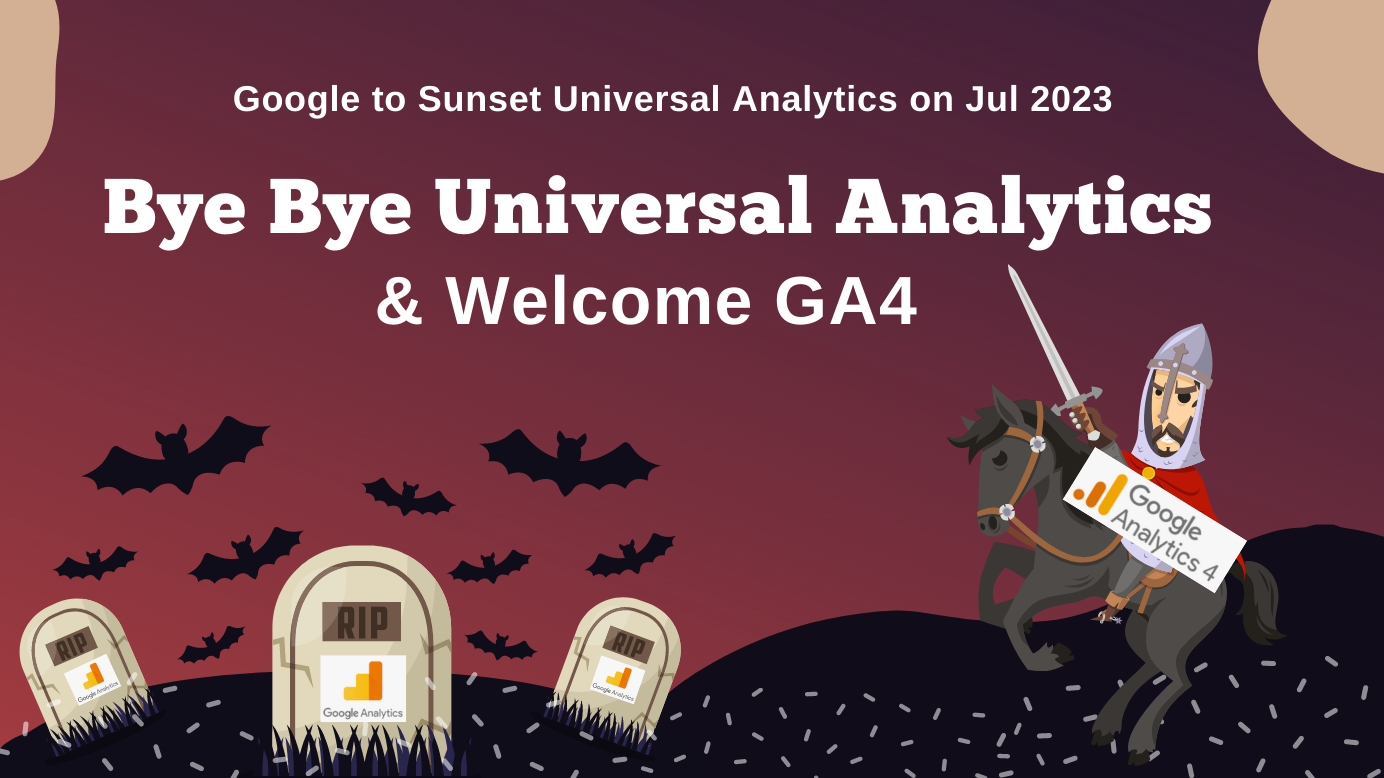 Google is Ending Universal Analytics & Why Switch to GA4
Why is Google sunsetting Universal Analytics?
Google has announced they are sunsetting Universal Analytics in July 2023.
We will begin sunsetting Universal Analytics — the previous generation of Analytics — next year. All standard Universal Analytics properties will stop processing new hits on July 1, 2023. Given the new Analytics 360 experience was recently introduced, Universal Analytics 360 properties will receive an additional three months of new hit processing, ending on October 1, 2023.
Google's official announcement
The main reason why Google is ending Universal Analytics is that the technical architecture of the GA platform no longer meets current standards of analytics needs.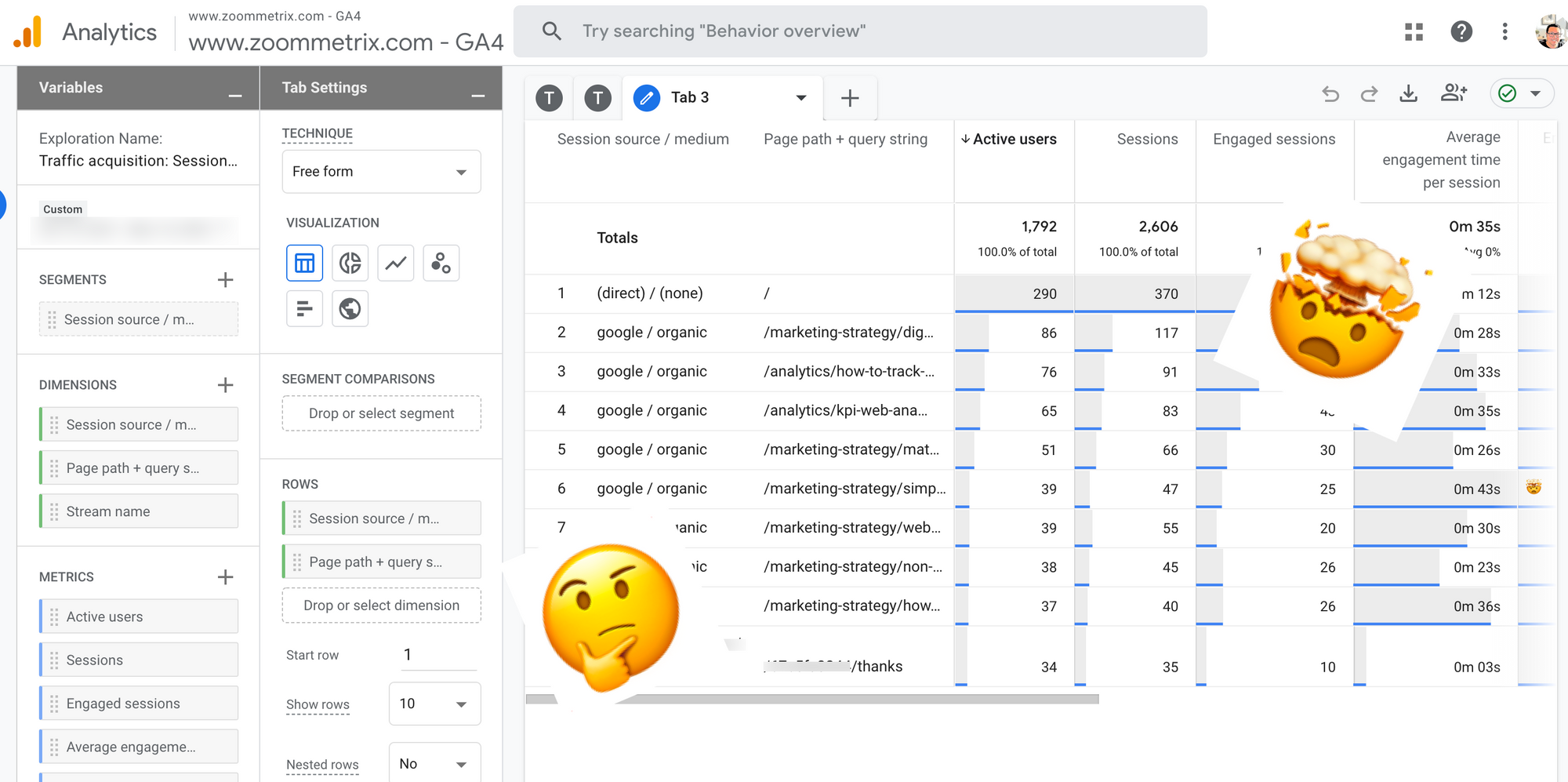 Let's breakdown why Google is sunsetting Universal Analytics and moving forward with GA4.
Align measures across browsers and mobile apps.
Google Analytics is designed based on pageviews based tracking where when people access a URL of the website, the server will track how many times a visitor accessed that URL. Anything subsequent visit to another page will be tracked to derive time spent on site, bounce rates, etc.
Fast forward to today, it is no surprise that people across the globe are using smartphones to access content online.
How mobile tracking and analytics measures no longer align with what traditional website reports. A good example is that people swipe, tap, and access features on mobile apps, not visiting a web page or clicking a link unless it is on the browser web.
Typically, the measures used in web analytics tools for people accessing a website would-be visitors, sessions, page views, and clicks for web analytics.
Conversely, analytics tools would report active users, event counts, and properties for mobile.
The majority of the marketers want unified measures where you only want to know how many people accessed your website or app, where they came from, and what they are doing on your digital properties.
Preparing for Cookie-less tracking.
Universal Analytics was built for a different time when people mostly used desktop computers to go online. With independent sessions and data from cookies, the old way of measuring things is no longer accurate.
Meanwhile, Google Analytics 4 operates across all platforms and does not rely on cookies. Instead, it uses an event-based data model to track users' behavior accurately.
To address privacy concerns.
Universal Analytics offers many privacy controls. But Google Analytics 4 is designed with privacy in mind.
It gives customers more comprehensive and granular controls over data collection and use. Plus, Google Analytics 4 will no longer store IP addresses. This is important today because users expect more privacy protections.
It is also important to understand the need for improved privacy measures is coming from various parts of the world. This is Google's way to tackle and address the needs for better privacy measures and governance.
How is GA4 different from Universal Analytics?
Hits and Events
Google Analytics 4 properties and Universal Analytics are different because Universal Analytics has a Category, Action, and Label for events. With Google Analytics 4 properties, every "hit" is an event.
There is no distinction between hit types. For example, when someone views one of your website pages, a page_view event is triggered. However, Google Analytics 4 events have no notion of Category, Action, and Label.
Therefore, unlike Universal Analytics reports which show Category, Action, and Label information about events, Google Analytics 4 reports do not display this information.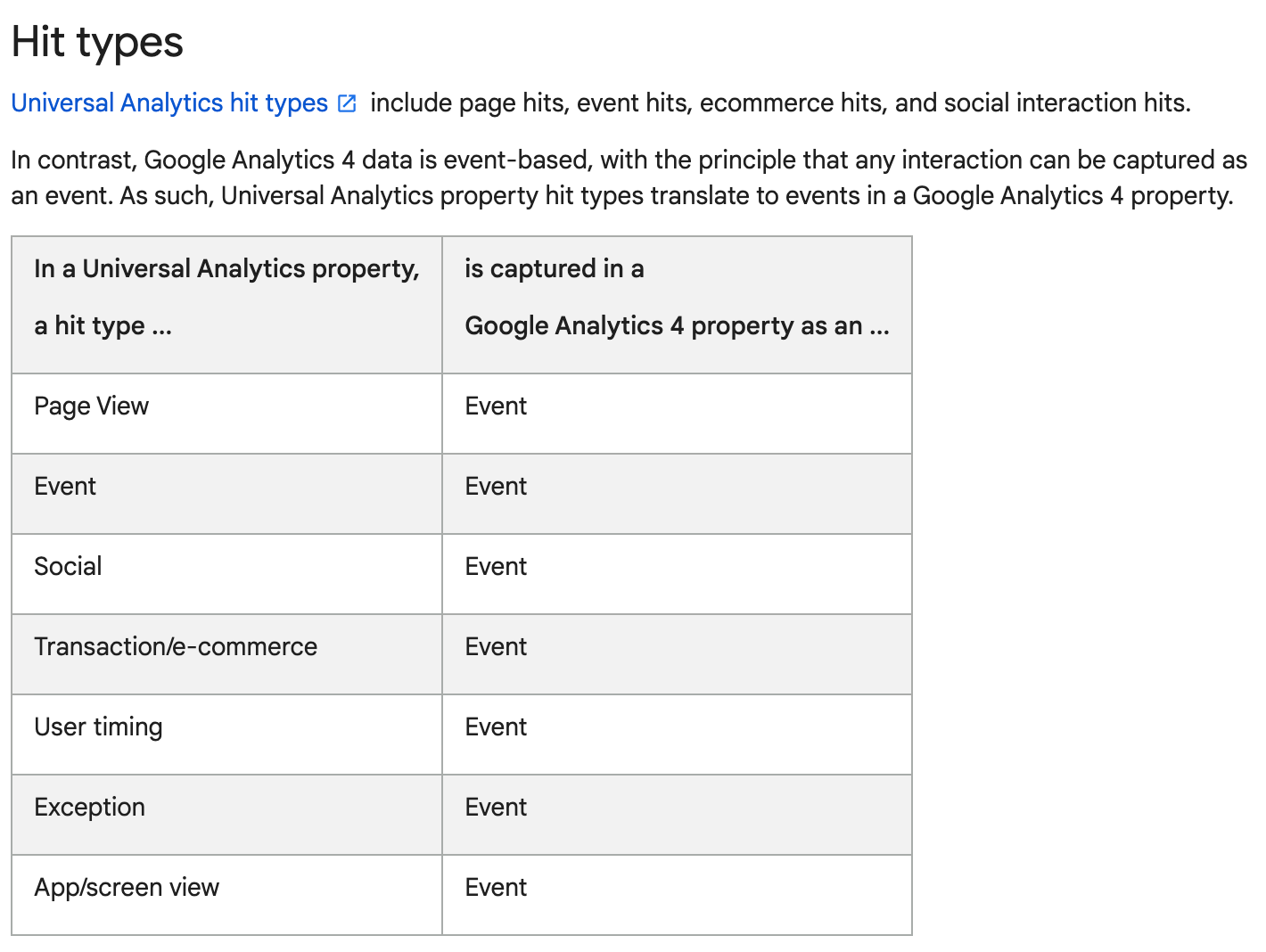 Pageviews and Screenviews
In Google Analytics, pageviews are tracked as page_view events. These events are automatically generated by the gtag config command or the Google Analytics 4 Configuration tag in Google Tag Manager.
You should not compare pageviews between Universal Analytics and Google Analytics because they are calculated differently, and the numbers will not match.
A screenview is the app equivalent of a pageview. When someone views a screen on an app, it counts as a screenview event in Google Analytics.
Sessions (or visits)
A session is a group of interactions with your website that happen in a short amount of time.
In Universal Analytics, a session can be multiple page views, events, social media interactions, and eCommerce transactions. Sessions usually end after 30 minutes of no activity or when another qualifying event happens.
Google Analytics 4 session metrics come from the session_start event automatically collected. For example, the duration of a session is based on the time between the first and last event in the session.
How sessions are calculated differs, so note that the numbers will vary if you compare UA and GA4 sessions count.
Universal Analytics will start a new session for every new campaign, even if there is no activity. However, Google Analytics 4 will not start a new session for every new campaign, which may lead to lower session counts in your Google Analytics 4 property.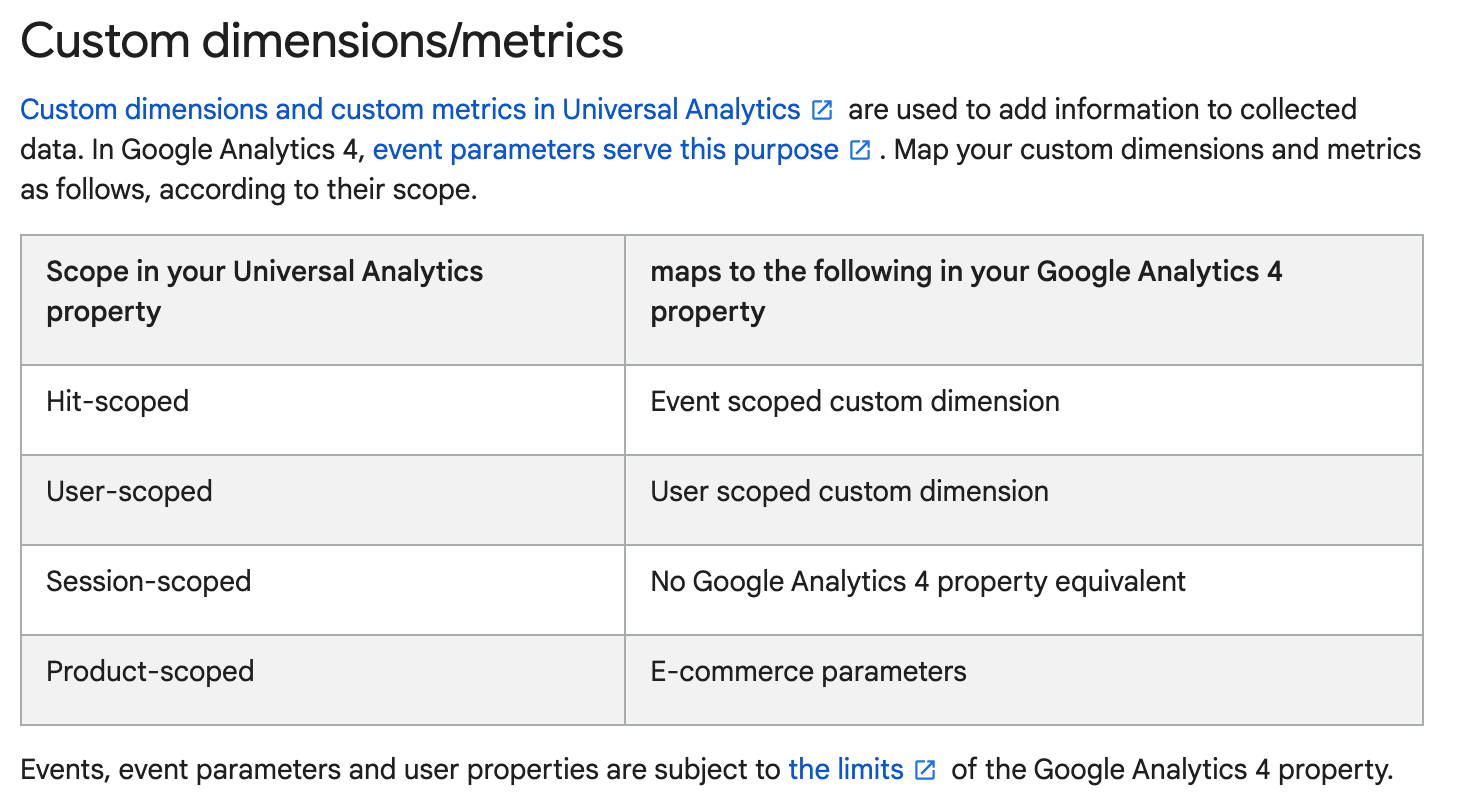 User ID or user-level tracking
Google Analytics 4 property lets you see how users interact with your app or website on different devices. You need to generate your unique IDs, assign them to your users, and include the IDs when you send data to Analytics.
With this feature, Analytics will put all the data together to create a single journey for each user. Unlike Universal Analytics, Google Analytics 4 property does this automatically and does not require a separate User-ID.
If you want to track users who use your app and website, ensure that the same identifier is used for both. The value passed for User ID should be the same type (string or integer) on both your site's app and web versions.
Why should you care about migrating to GA4?
As you can see, the entire technical architecture of Google Analytics for GA4 is different. This signifies the end of traditional web analytics that we're all accustomed to from the Web 2.0 days.
I've listed some key points on why I think you should care about migrating to GA4.
If you want GA4 to report Year-over-Year traffic change next year, you want to act fast.
If you don't track today, you will not get that data in reporting. Any custom measures you have today that are critical to report on, you'd want to start tracking that in GA4 soon.
You will no longer get any data reported from Universal Analytics after July 2023.
GA4's reporting interface is not intuitive. Just try GA4. Start getting used to it, or if you want something robust, GA4 has native integration with Google BigQuery, so use Data Studio (or equivalent BI tool) as a reporting platform.
What are the next steps you should take?
Talk to your marketing analyst or data engineer, and have a GA4 migration plan. If you don't have a key contact in-house, see if your marketing agency knows anyone who can support the transition.
What every marketer wants are accurate reporting to enable visibility on what's working or not working for their marketing strategies.
This shift from Universal Analytics to GA4 will keep many marketing analysts busy. So start learning the platform's differences and gear up to answer why analytics are so different. Good luck!!
Thank you so much for taking the time to read my content.  If you've liked what I've had to say please subscribe!
Join the Marketing Analyst Collective
This Collective will personally match talented marketers with data acumen to high-growth, high-upside opportunities at some of the most exciting companies.
Join & Get Hired
ZoomMetrix Newsletter
Join the newsletter to receive the latest updates in your inbox.
---