How Mobile Analytics is Uniquely Different from Website Analytics
I covered briefly on mobile analytics in my previous post, but I thought I give it a different view on how we should approach thinking mobile analytics.
I touched about SoLoMo (Social, Local, Mobile) being the main eco-system on the emerging media and consumer behavior. Because successful mobile sites or apps are embracing all these three pillars, it is absolutely important to think deeply about your mobile business's success factors as well as the environment where the mobile is used.
A lot of us may own a smartphone, so I'm probably preaching to a choir…
Mobile site could in any form of genres and used as:
Video, music, magazine or any content consumption
Shopping / eCommerce
Camera and share photo
Shop on Amazon.com while in Best Buy
Check into places and unlock a deal
Play games
Cross-platform interaction. iPad/iPhone controlled apps on TV
If you think about the data points you could possibly track and tie to different events or data dimensions, it is endless. It definitely has a unique data points or dimensions than the traditional websites.
Depending on the service and number of active users, traditional website analytics solution may not work. Especially if it is a service requiring real-time data to react to, or provide services that need to process terabytes of data in a day or so.
We could already imagine services like Google, Facebook, News Media companies, or Social Gaming apps may fall into this camp where traditional website analytics may not work. They most likely use data managements catered to Big Data.
If you're a traditional website analytics analyst and meet some data analysts who do analytics at (randomly saying…) Zynga, it is very likely that the tools, infrastructures, analytical approach are totally different. That's not a bad thing, it just means more fun stuff to learn. :)
This difference is already setting the landscape differently in terms of skill sets required to do the job, data tracking environment, reporting practices, etc.
Just keep this in mind, that web analytics is not only about using Omniture, Webtrends, Google Analytics, Unica, Coremetrics, etc.
Shifting gears…
I came across this cool mobile marketing done in South Korea. A number two grocery chain Tesco, wanted to gain share without opening up a new store, became number one in market share by opening up their virtual storefront in a sub-way station. (I don't know about now because I would assume another grocery chain would do the same to compete.)
Source of image: BBC – Shopping by phone at South Korea's virtual grocery – by Jason Strother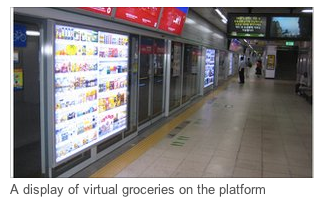 I would imagine the KPIs would not be different from traditional eCommerce. Such as…
Traffic (traffic after people snap the photo of QR code)
Transaction
Revenue
Average order size
I would imagine, the operational metrics would be very insightful, yet different from traditional website analytics.
Traffic and transactions by Subway (or location)
Top performing hours by day. My assumption is it works the best during rush hour, but maybe not because people are rushing. hmm
Customer profile on those who purchased. Is it younger audience? women? men?
Items performance. Is it the small incremental stuff that people forget to buy at the retail store? or is it the items people would like to carry less?
The viral effect of promoting such virtual store fronts. I would image, doing some promos or doing such cool digital marketing will yield some buzz. How did that influence the brand?
Payment preference for a mobile transaction.
Wow…
Website analytics have many similar measures and dimension, but what is unique about mobile is the application and the operational aspect of these metrics in online and offline hybrid environment. When that kind of operational metrics is applied different, then obviously that means optimization activities are going to be totally different.
For example…
Does it work better in a non-subway environment? Should they try in airports?
Do bigger graphics on products that work should be the ones they focus on?
This doesn't mean South Korea is the only country doing cool things with mobile. If we open our eyes, we see a lot of this changes are happening in US, Japan, and many other countries.
Let's see what you have in mind. Digital mobile marketing is already starting and how you can apply that website analytics skills to the new era of mobile!!
Thank you so much for taking the time to read my content.  If you've liked what I've had to say please subscribe!
ZoomMetrix Newsletter
Join the newsletter to receive the latest updates in your inbox.
---