Top 5 Things to Consider When Building Marketing Analytics Stack for Marketing
How you manage data on the website and its analytics stack is super critical to your marketing success. More data are leveraged in marketing to better improve various digital marketing strategies, including but not limited to the user experience on the site, test user behavior, improve conversion rate, optimize ad targeting to your key audience, etc.
One of the challenges I'm realizing is that data are all over the place. If you have tons of data, then that is a pretty nice problem to have as we live in a world where data is never enough. However, as we track many ads and obtain all the behavioral activities through the tag on your website, unorganized and siloed data will cause more issues for analysts. You may also have web analytics tag independent from the media ad pixels, such as Google Analytics, Mixpanel, KissMetrics, etc. Multiple trackers collecting different data and having it sit on various environments or databases are not going make analyst lives easier.
Marketing automation tools allow further tracking and segmentation on its own platform enables a marketer to be robust on how they reach their users without web analytics tool. That said, it's important to understand where your marketing data sits and managed, especially when various stakeholders are accessing data and acting on it from siloed sources.
Data could be either centralized or decentralized. Data could be even owned by different departments and even owned by media agencies. So my first top consideration point is:
#1 Know your marketing technology stack end to end.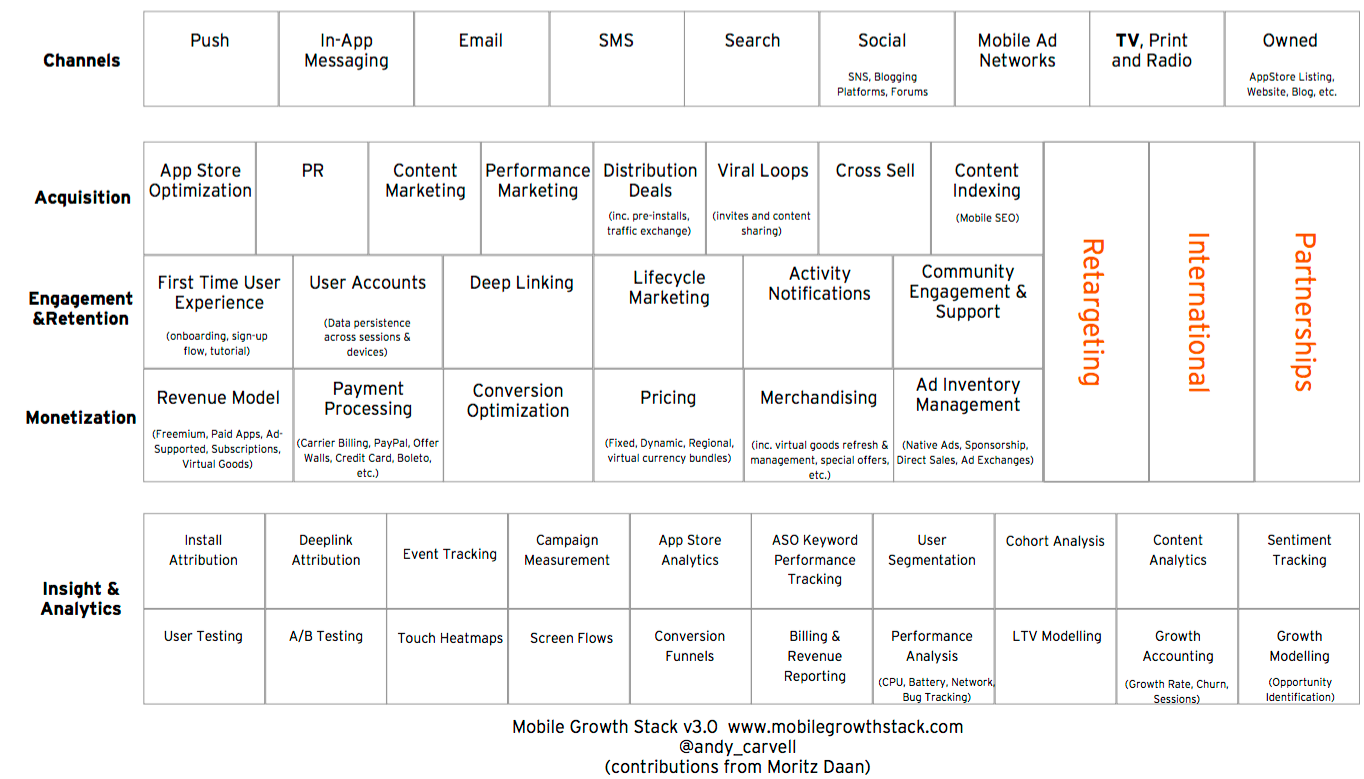 I really love this mobile analytics stack framework because it shows you different areas of marketing efforts, and how various marketing tactics and analytics stack co-exists in the marketing ecosystem.
#2 Align marketing technology tools to your business priorities
One of the rookie mistakes you can do as analytics expert is to invest in a tool that doesn't meet business needs. People over rely on tools to solve their problem and what could be worse is you end up buying a solution to a temporary problem marketers have at the time. First thing first, understands your business priorities and plan for the year, and look ahead beyond the first year as well. Some tools require some good amount of time to onboard and calibrate before you start taking advantage of its features.
If you do plan to run A/B testing, and conversion rate optimization is your priority, then you might want to assess what's needed beyond tools. Keep in mind, tools aren't the only thing. It's also people, process, and technology. That said, need to assess if you got the right people and process in place to drive marketing, and not to rely on tools too much.
#3 Plan for near future and help solve problems
A lot of the analytics tools that go on the website require certain amount time for it to collect data and report on. So when you commit on a certain availability of data for analysis and reporting, keep in mind that it will not be another month to start using those new capabilities. That means you have to set the right expectation on the analytics stack you manage.
Many businesses rely on year-over-year analysis to take into consideration of seasonality, or capture growth in general. So the analytics tools and tech stack you chose, make sure you're planning ahead, so you know exactly what you'll be looking at on a year-over-year basis.
In my recent experience with the marketing attribution tracking tool that I implemented, marketers were dying to know how digital touchpoints were contributing to lead generation, pipeline, and the deal closed. Immediately the desire to know how it worked month-over-month, quarter-over-quarter emerged, but the data collection was only available from when it was implemented.
Google Analytics is another great example, understand your business needs well and make sure you got great profiles, filters, customer dimensions, and other possible data structures are in place. This is to assure great data quality for reporting and insights.
Another important point would like to make is, turn your challenges into something you want to solve as a project for next year, and the key is to ask for the budget or do plan for the requests. In many cases, it takes some time to build a case, because everything should be based on data right?
#4 Communicate your plan
One of my favorite thing my prior manager told me, "People, Process, and Technology" are key elements in the successful organization. Applying this thought to digital marketing, I think "People" piece really defines how every marketing analytics analysts and managers really need to step up and communicate the marketing stack clearly. It's background on what, how, why, and who it was designed to solve the problem for can build a sense of trust in between analytics and marketing folks.
I never like tools to dictate the conversation, but it never hurts for people know context around the data collection and reporting sources.
Also if marketing has a roadmap, then analytics should have a plan as well. Example, mobile app marketing is going to be key in upcoming quarters, then analytics needs to be ready to track and report on it. Same goes for any other marketing strategy and tactics. Get you plan out and communicate your plan.
#5 Use it or lose it
Marketing analytics tools usually don't come by cheap. Enterprise-grade tools could cost you a great amount of money and time starting from evaluation all the way through to completing the contract. It involves a lot of people and their time. We should respect everyone's time and make sure these tools are leveraged and answering important business questions.
A lot of the major software vendors who are doing well in their space has great community and training programs. Also, it's important to leverage their documentations and really read through to learn it. Sooner or later those knowledge gained will become part of your expertise. As an analytics person, you should take every opportunity to learn the tool you're exposed to.
Thank you so much for taking the time to read my content.  If you've liked what I've had to say please subscribe!
ZoomMetrix Newsletter
Join the newsletter to receive the latest updates in your inbox.
---